Are you doing the Elf On The Shelf with your kids this year? Don't let your special elf show up without a terrific Elf On The Shelf Arrival Letter! Grab this free printable Elf On The Shelf Arrival Letter pack so you're ready for the season!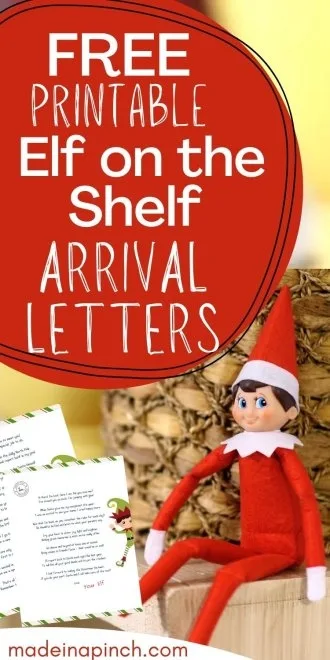 The holiday season is the most magical time of the year. For a long time, I thought that was just a dramatic thing to say, but once I became a parent, I GOT it.
Seeing the wonder and excitement in our child's eyes completely changed my perspective on the holidays.
And not only is the season magical, but it's FUN too! Family holiday traditions add structure to a busy season and give everyone events to look forward to.
In addition to making cookies, crafts, and decorating the tree with ornaments, we have our family Elf On The Shelf who comes back to visit year after year.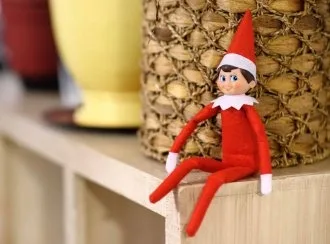 Our Elf On The Shelf Tradition
Here are several parts of how we use this tradition in our family.
Name
Each family gets to name their Elf on the Shelf, and we named ours Beezy when he first arrived. Don't ask me how we came up with that name, but it stuck!
I found the task of naming him to be SO hard. To make it easier, we've compiled HUGE lists of boy elf names and girl elf names so you won't be at a loss for names!
When does the Elf On The Shelf arrive?
This is totally up to you, but here's what we do.
Beezy arrives every year on December 1st.
When he first became a part of our family, he used to arrive on the day after Thanksgiving. But we had one year when Thanksgiving was REALLY early which made for a LONG season of moving and arranging Beezy every night.
He's been arriving on December 1st ever since!
(thankfully the kids were young enough that they didn't really notice the change)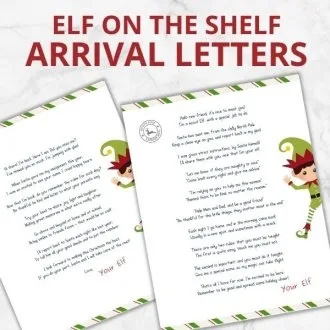 When does the Elf on the Shelf leave?
In our house, he leaves the night of Christmas Eve when Santa comes to the house.
Moving Your Elf
Ok, this part of the tradition is both my most dreaded part – and my absolute favorite part!
Remember to move Beezy and either hide him (so the kids can find him) or get him into mischief can be grueling.
After taking care of kids all day and all the work and running around that's involved there, I'm exhausted after the kids are in bed! (bedtime is my favorite part of the day because I can actually sit down and binge a few minutes of my latest Netflix show before falling asleep)
After I finally get the kids settled down and in bed, I sit down to relax for the first time all day and then head to bed myself.
The WORST is when I'm cozy and comfy in bed when it dawns on me…I FORGOT to move the elf! Then comes the internal struggle: do I get up and do it now or do I wait until morning?
After choosing to wait until the morning one time and getting busted by my kids because they realized Beezy didn't move, I get back out of bed and just do it.
If you are stuck on what to do with your elf, you'll want to check out these easy Elf on the Shelf ideas for busy, tired moms!
Finding Your Elf In The Morning
Moving him around every night might be tedious, but…my FAVORITE part is watching the kids come down in the morning and search for Beezy to see where he is and what he's up to! It's SO MUCH FUN as a parent!
Overall, it's been a super fun tradition that both the kids and I look forward to.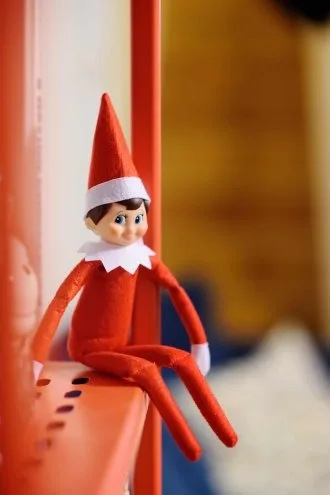 Your Elf On The Shelf's Arrival
The first year you welcome your elf is special because you name your elf and establish all the rules concerning your elf. Then after that, things will be a little different (and easier).
An Elf On The Shelf First Arrival Letter
If this is the first time you're welcoming your elf, I have a letter you can use as your Elf on the Shelf arrival welcome letter.
It's a cute way to give your kids some information and guidelines for hosting your own personal Elf on the Shelf.
In addition to having the letter with your elf when they arrive, you can choose to have him bring a small gift such as Christmas PJs or an advent calendar.
In other words, you can make this super simple by just having your Elf on the Shelf arrive with a letter, or you can add to it by including a small gift.
It's totally up to you! 😁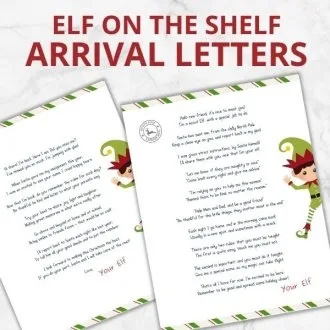 Use A Welcome Back Elf On The Shelf Arrival Letter For Other Years
What if this isn't your first year with your own elf? Well, you won't need the same Elf on the Shelf arrival letter, right?
Instead, you just need a shorter, simple yearly welcome back letter. It just gives a brief reminder of the rules and greets the kids to begin the seasonal fun!
If you want to, you can have your elf sign his or her name at the bottom after you print out the Elf on the Shelf arrival letter. Then leave it out for the kids to find!
Really simple, right? I love traditions like this but know I won't do them if they are difficult or time-consuming.
With that in mind, if you want an easier way to write your elf's name on their letters, I recommend getting a custom stamp with your Elf's name, so your kids don't recognize your handwriting!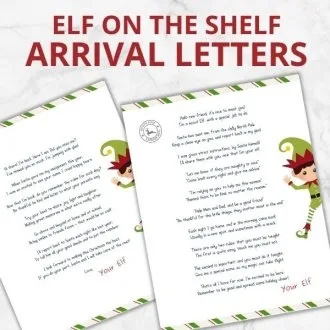 An Elf On The Shelf Arrival Letter Pack
As a mom of 3 boys, I completely understand what the chaos of parenthood and the season is like!
To make it SUPER easy for you, I have made 2 different Elf on the Shelf Arrival Letter printables that you can print out and have your Elf bring to your kiddos! Easy peasy, right?
To receive your Elf on the Shelf arrival letter, all you have to do is click on the image, enter your email address and then download the pack. from there, just print it…and add your elf's name to the bottom – if you want to!
So, are you ready to hit the easy button on this Elf on the Shelf tradition? I'm holding your free Christmas elf arrival letter kit for you! Grab it now!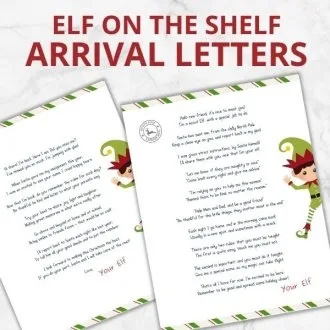 I hope you enjoy these Elf on the Shelf arrival letters…and happy holidays!
More Fun Holiday Inspiration
If you love this Elf on the Shelf arrival letter idea, be sure to check out these other ideas too!