Make these unbelievably yummy Indian Tacos at home with just a few simple ingredients! The incredible Indian Frybread that serves as the base for these tacos sets them apart to create a delicious and filling weeknight dinner the whole family will love.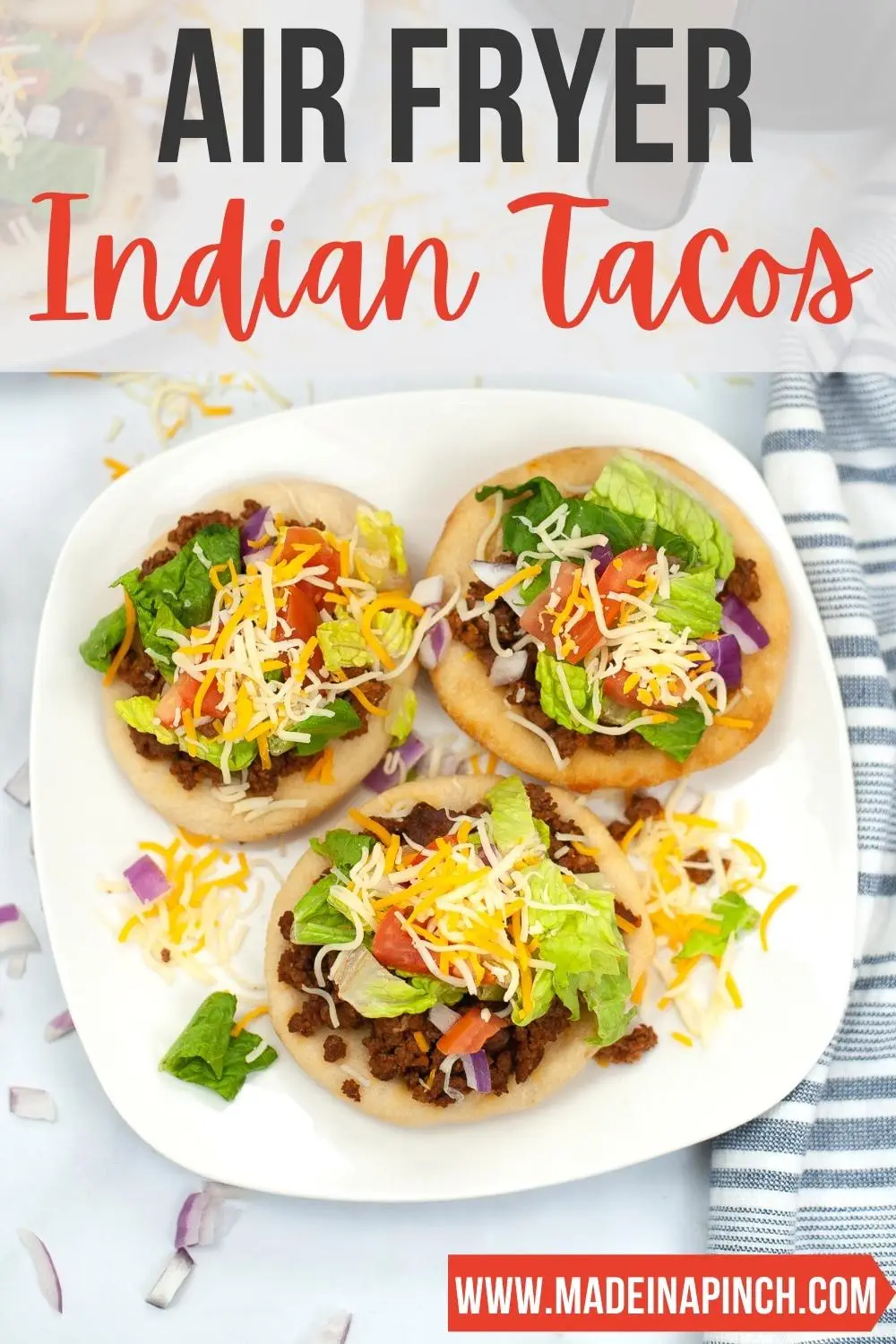 We have a local Chipotle-style restaurant that serves Indian Tacos.
I love regular tacos, burritos, and basically any (non-spicy) Mexican food.
But Indian Tacos? Well, that seemed like a pretty different flavor palette. Would we like it?
My family went to check out the restaurant a few years ago – and we were instantly hooked!
They were SO good – and the frybread was what ensured that I would forever love Indian Tacos.
What is an Indian Taco?
You may also hear Indian Tacos called Navajo Tacos or Native American Tacos.
Indian Tacos start with a bed of frybread that's topped with taco-type ingredients. We like to use seasoned ground beef, but you can use chicken, marinated shredded pork, bison, etc.
Then add sauce, lettuce, beans, cheese, sour cream, etc!
What is frybread?
Frybread (also can be spelled as "fry bread") is a flat dough bread, fried or deep-fried in oil, lard, or shortening. Fluffier than a tortilla, it's just a simple bread mix that is flattened out and fried.
As it fries, it puffs up and makes a semi-flat tortilla-shaped bed for all your addictively good toppings.
A close cousin would be pita bread, but frybread is different – and unbelievably good!
If you love air frying, you might also enjoy our: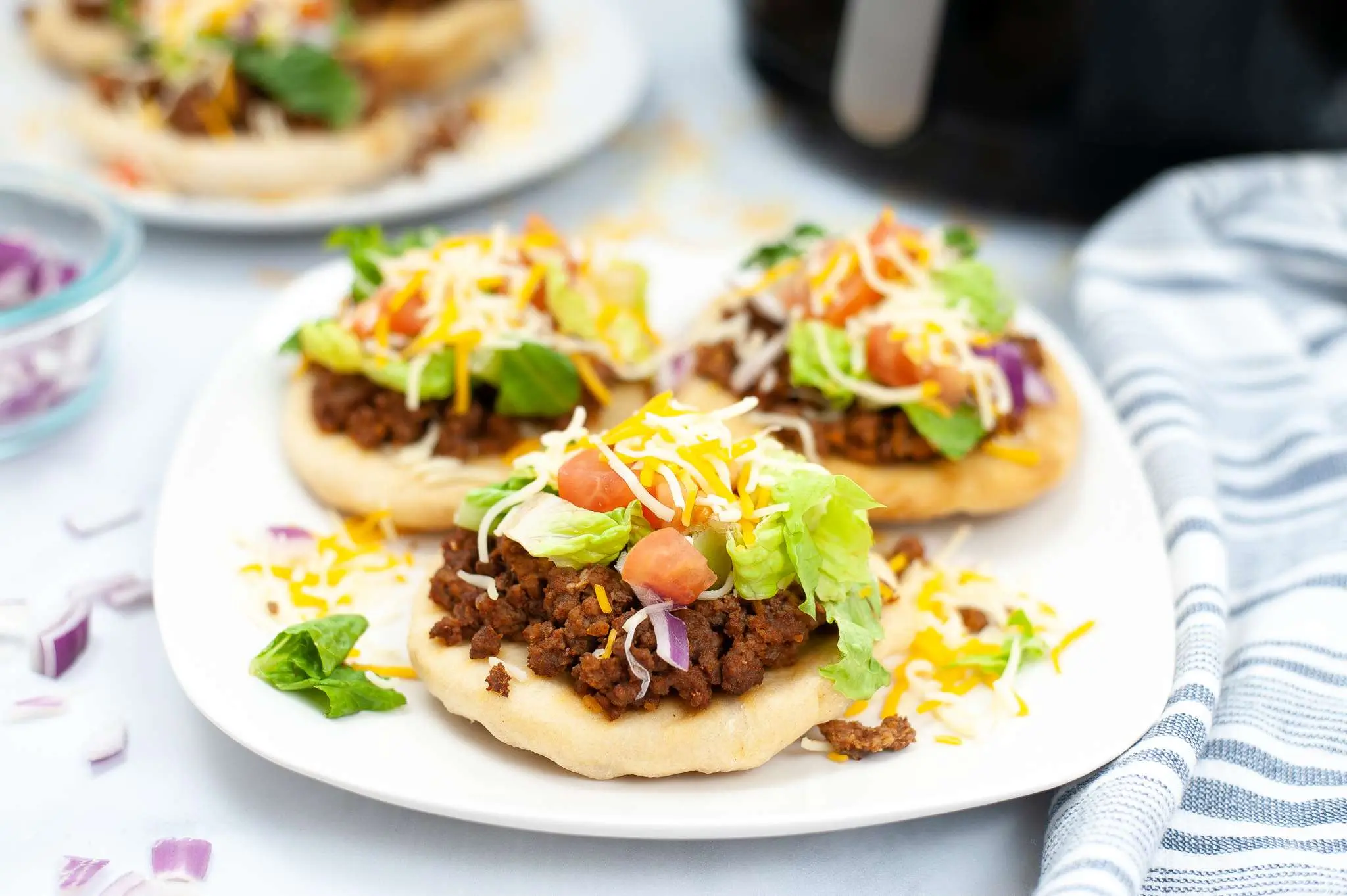 Ingredients Needed For Air Fryer Indian Tacos Recipe
Here's what you'll need to have on hand to make this tasty recipe.
Please refer to the handy printable recipe card at the bottom of the post for exact measurements and instructions.
Flour – all-purpose
Salt
Baking Powder – helps provide the rise in the dough
Warm Water
Oil – vegetable or canola
Taco Meat – add taco seasoning to ground beef, turkey or chicken
Shredded Cheese – cheddar, mozzarella, mexi-blend or your favorite kind
Lettuce – shredded
Tomatoes – diced
Onion – red, white or yellow depending on your taste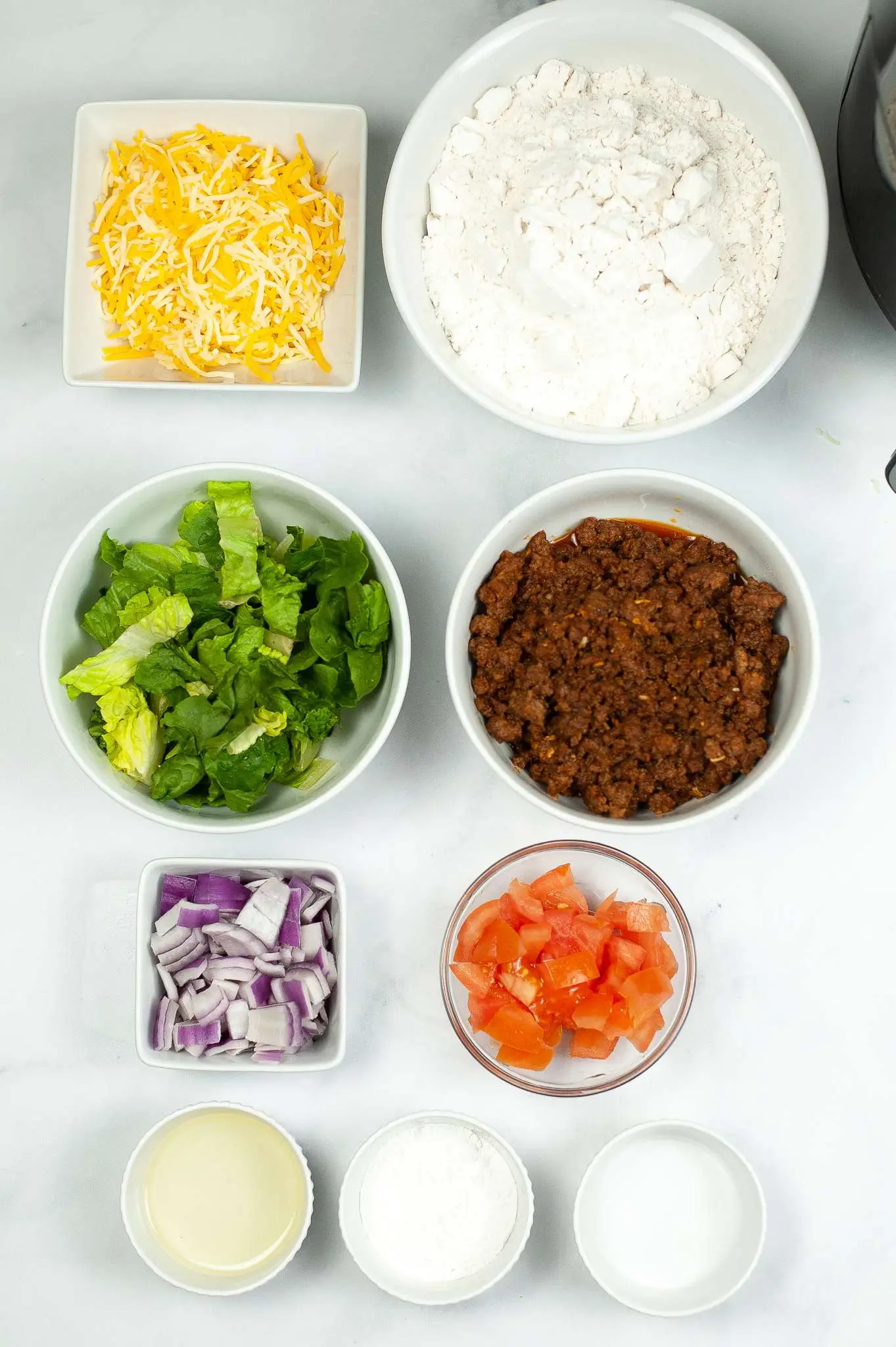 How to Make Air Fryer Indian Tacos
Here's how you'll make these Indian Tacos in the air fryer. The key is to make that fry bread!
Step 1
Mix together all the dry ingredients in a large bowl.
Step 2
With your mixer and bread hook, add in the water and oil. Knead the dough on medium/low for approximately 5 – 19 minutes until it forms a ball and does not stick to the side of the bowl.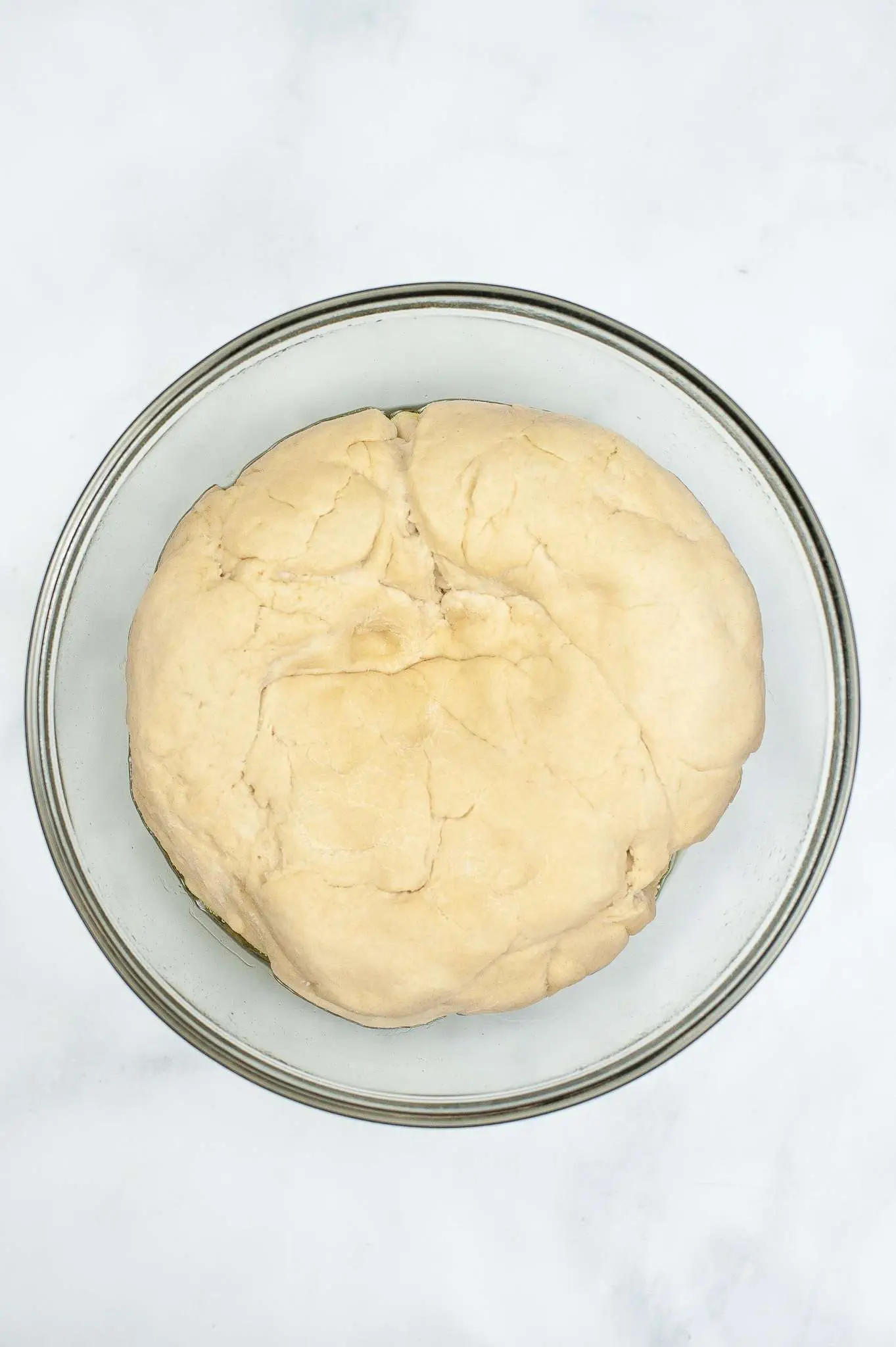 Step 3
Next, oil a large bowl and place the dough ball in it, covering the bowl with a damp cloth. Allow the dough to rest for at least 2 hours.
Step 4
Cut the dough into small balls about the size of a golf ball and form into a round ball.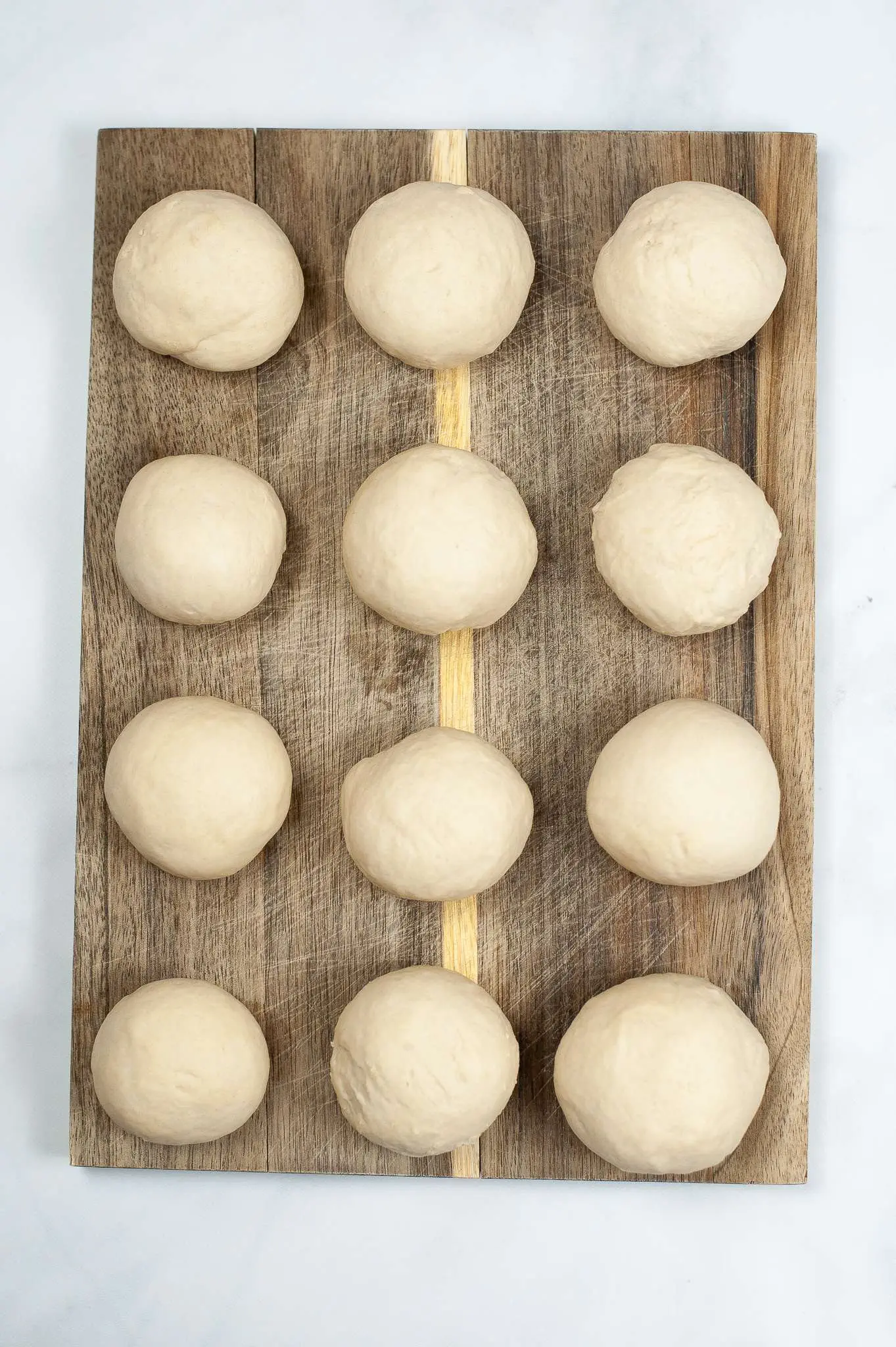 Step 5
Flatten the dough ball with your hand to form a small piece of flat bread that is approximately 1/4″ thick.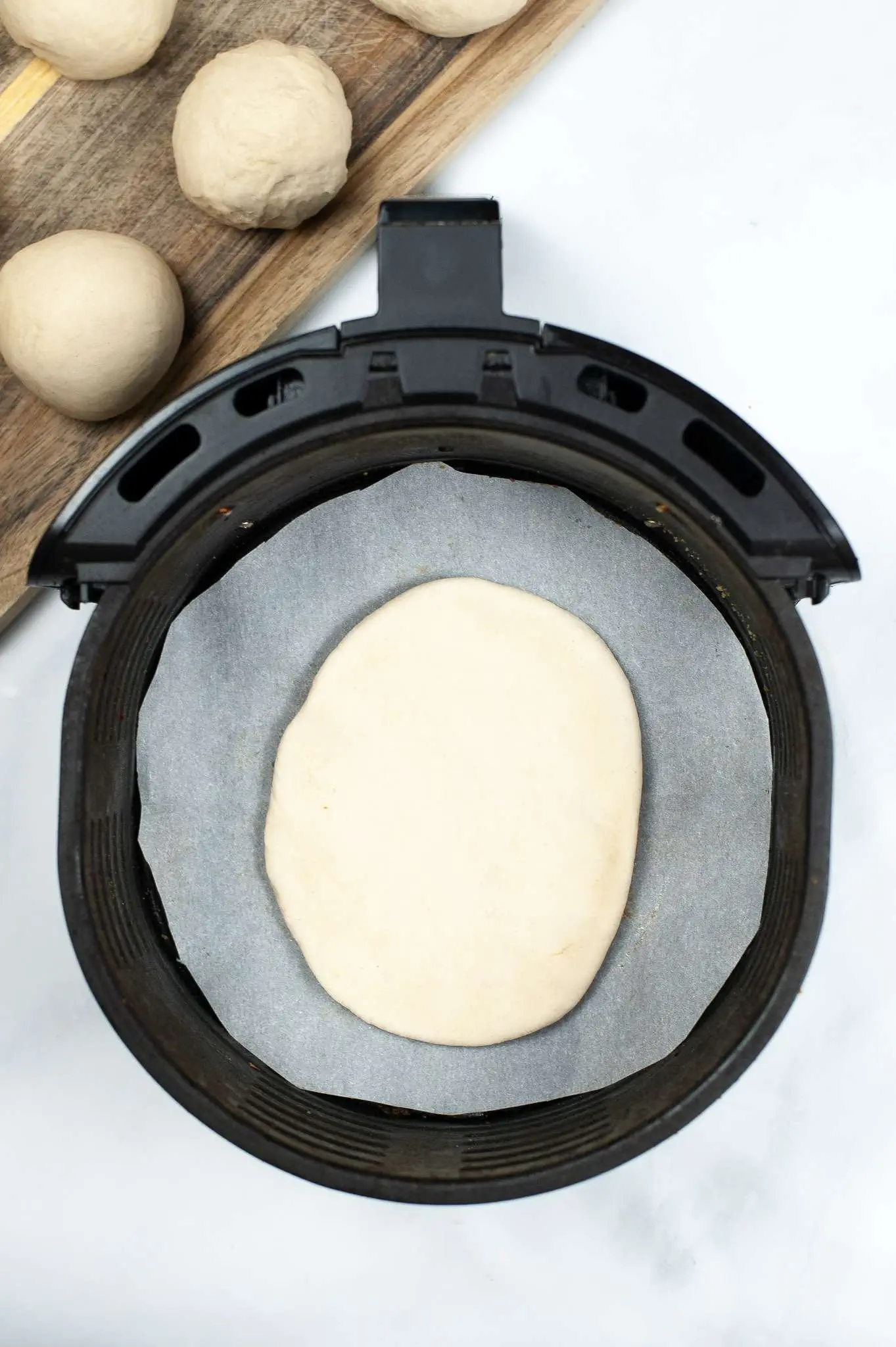 Step 6
Spray with oil and place the dough inside air fryer basket and cook for 7 minutes at 330 degrees. Then flip and cook for an additional 3 minutes.
Step 7
Top with the taco meat, lettuce, tomatoes, onions, cheese and any additional items you love your tacos such as sour cream or salsa.
Air Fryer Indian Tacos Recipe Notes And Tips
Serve this recipe at a party – it's a crowd-pleaser! I just recommend doing it buffet-style so that everyone can get the toppings they love and avoid the ones they don't like.
As the bread cooks, it will start to bubble up. You want to see bubbles during the cooking process.
Depending on the size of your air fryer and how many pieces will fit, you may have to cook 1 – 2 at a time. Once they are finished cooking, place them on a sheet pan in the oven on 200 degrees to keep them nice and warm until serving.
Variations Of Indian Tacos To Try
If you prefer a meatless version, use refried beans, chili beans or black beans in place of the taco meat.
Don't forget to add sour cream and salsa to the list of toppings. These are two of my favs!
Fry bread is very versatile – use extras for dessert! Instead of adding savory toppings, go with sweet toppings like powdered sugar, honey, or drizzled caramel or chocolate. You could even go further with fruits, whipped cream, and other sweet toppings you love.
Drizzle some honey over the fry bread then sprinkle with cinnamon sugar……HEAVEN!!! 😉
Chop up some peanuts, cashews or walnuts and add them to your dessert creation for a little extra crunch.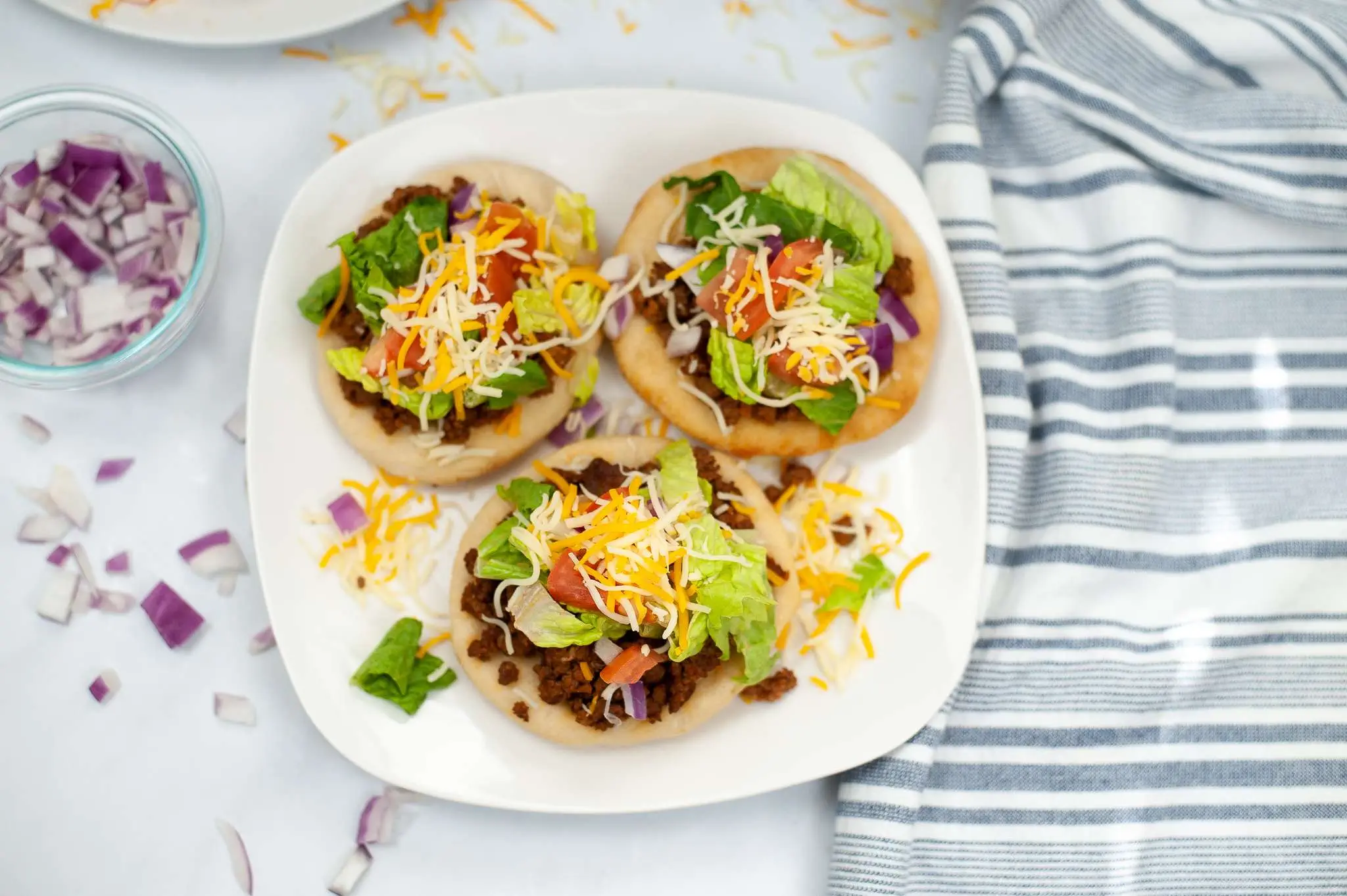 FAQs
How long will fry bread keep fresh?
Fry bread is the very best right after it has been freshly fried. However, if you have leftovers they will keep up to 2 days at room temperature wrapped loosely in plastic.
What is the best way to re-heat the fry bread?
You can crisp up your fry bread in the air fryer for 3 – 4 minutes at 350 – 400 degrees. It will get nice and crispy just like it was when you first made it.
Or, wrap each piece of bread in aluminum foil and put it in a 375-degree oven for 10 – 12 minutes.
Can I freeze the Indian Taco Fry Bread?
Yes, definitely! Let the fry bread cool completely then pat each piece with a paper towel to remove excess oil.
Place in a freezer-safe, air-tight container or plastic freezer bag once you have wrapped each one individually in plastic wrap. It can be kept in the freezer for 3 – 4 months.
Why did my Indian Taco Fry Bread get tough?
That could be a result of over-kneading or over-mixing. Be sure to only mix the dough until the ingredients are just incorporated and also to allow the dough to rest for the recommended amount of time.
Can I make my fry bread ahead of time?
Fry bread is best served hot and fresh so I would not recommend making it ahead of time.
However, if you want to make the dough ahead of time, you can place it in a bowl, cover it with plastic wrap and place it in the fridge overnight instead of letting it rest on the counter for 2 hours.
Just remember to let it come to room temperature before proceeding once you remove it from the fridge.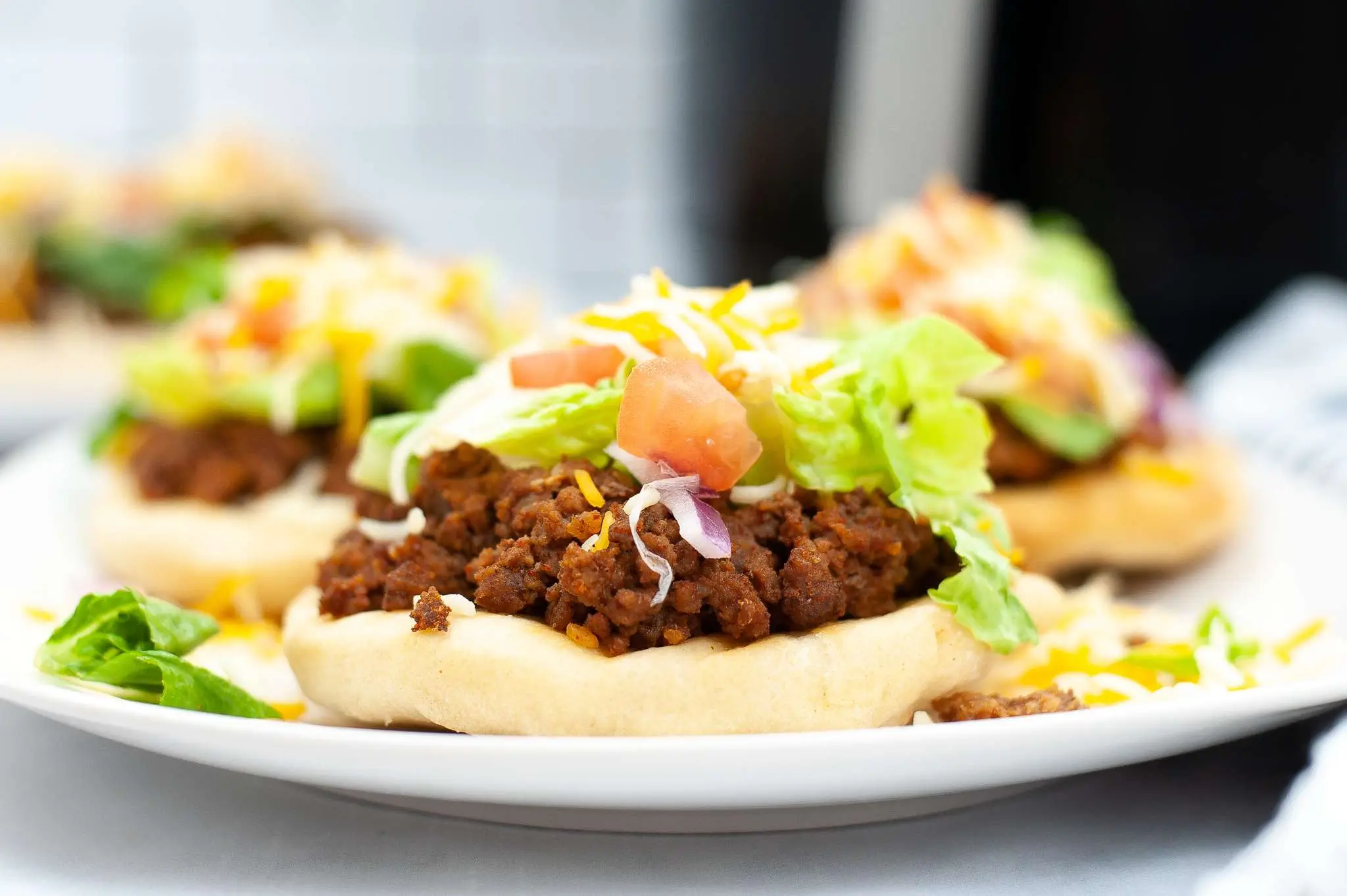 More Scrumptious Bread Recipes To Try
If you love this Air Fryer Indian Taco Fry Bread recipe, check out these delicious bread recipes too!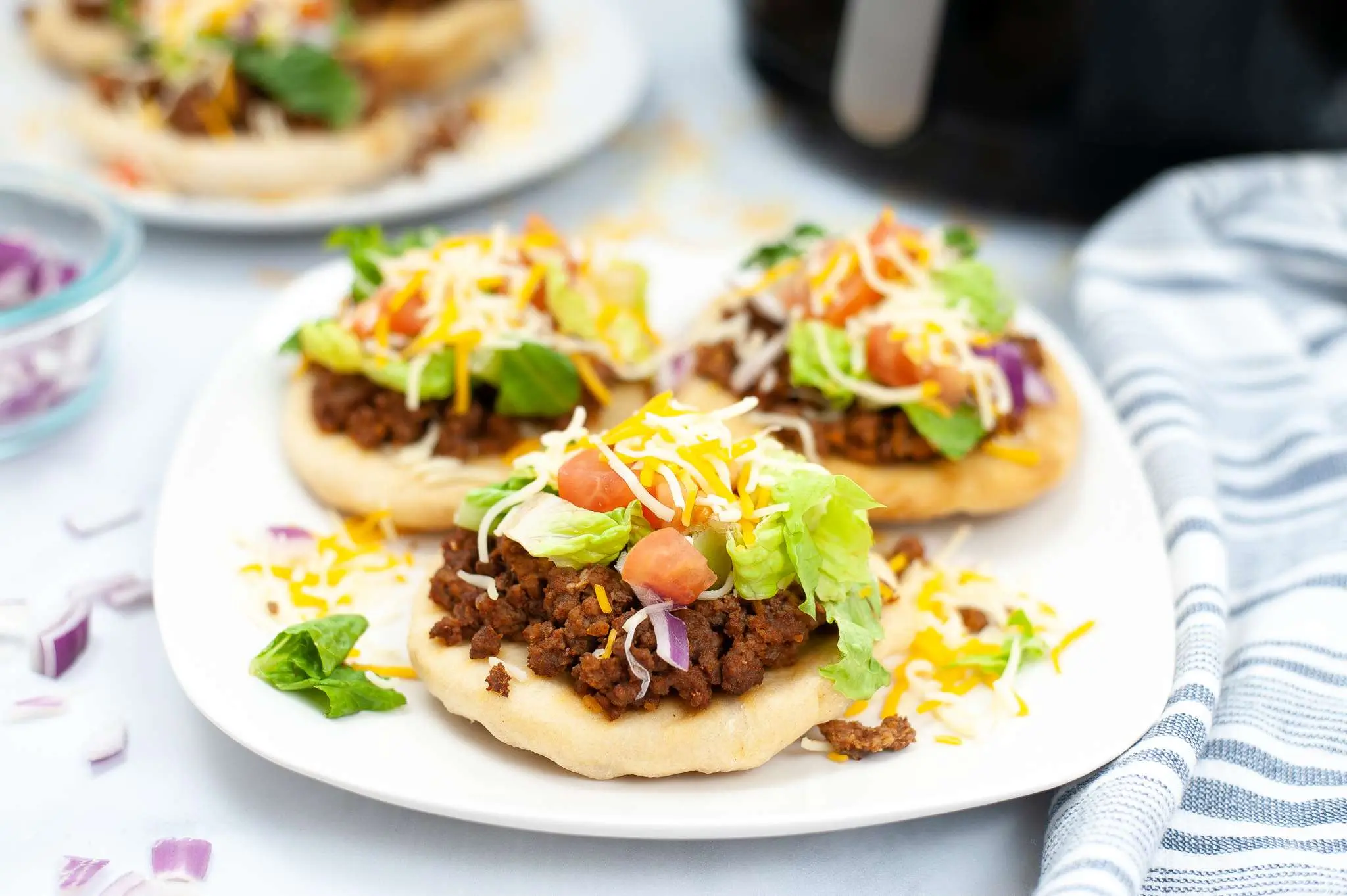 Air Fryer Indian Tacos
Yield:
12 Indian Fry Bread Tacos
Prep Time:
2 hours
15 minutes
Total Time:
2 hours
35 minutes
Ingredients
3 cups of flour
1 teaspoon of salt
2 teaspoons of baking powder
3/4 cup of warm water
1 tablespoon of oil
1 lb of taco meat
1 cup of shredded cheese
1 1/2 cups of chopped lettuce
1/2 cup of tomatoes diced
1/2 cup of onion diced
Instructions
In a mixing bowl, combine all the dry ingredients.
Using a bread hook, mix in the water and oil. Knead on med low for 5-10 minutes until the dough forms a ball and no longer sticks to the bowl.
Place dough ball in an oiled bowl, cover with a damp cloth and let dough rest for 2 hours
Cut the dough and form in golf ball size balls.
Using your hands, compress the dough balls to form a small flat bread 1/4" thick.
Place in air fryer basket and spray with oil. Cook on 330 degrees for 7 minutes, flip and cook for 3 more minutes.
Top with taco meat, lettuce, cheese, onion and tomatoes.