Our Easy Scalloped Potatoes are a classic dish with creamy layers of potatoes surrounded by a rich, buttery sauce. You won't believe how GOOD they are! Extremely simple to make from scratch, all you need is a handful of ingredients for a dish perfect for ANY holiday or family get-together.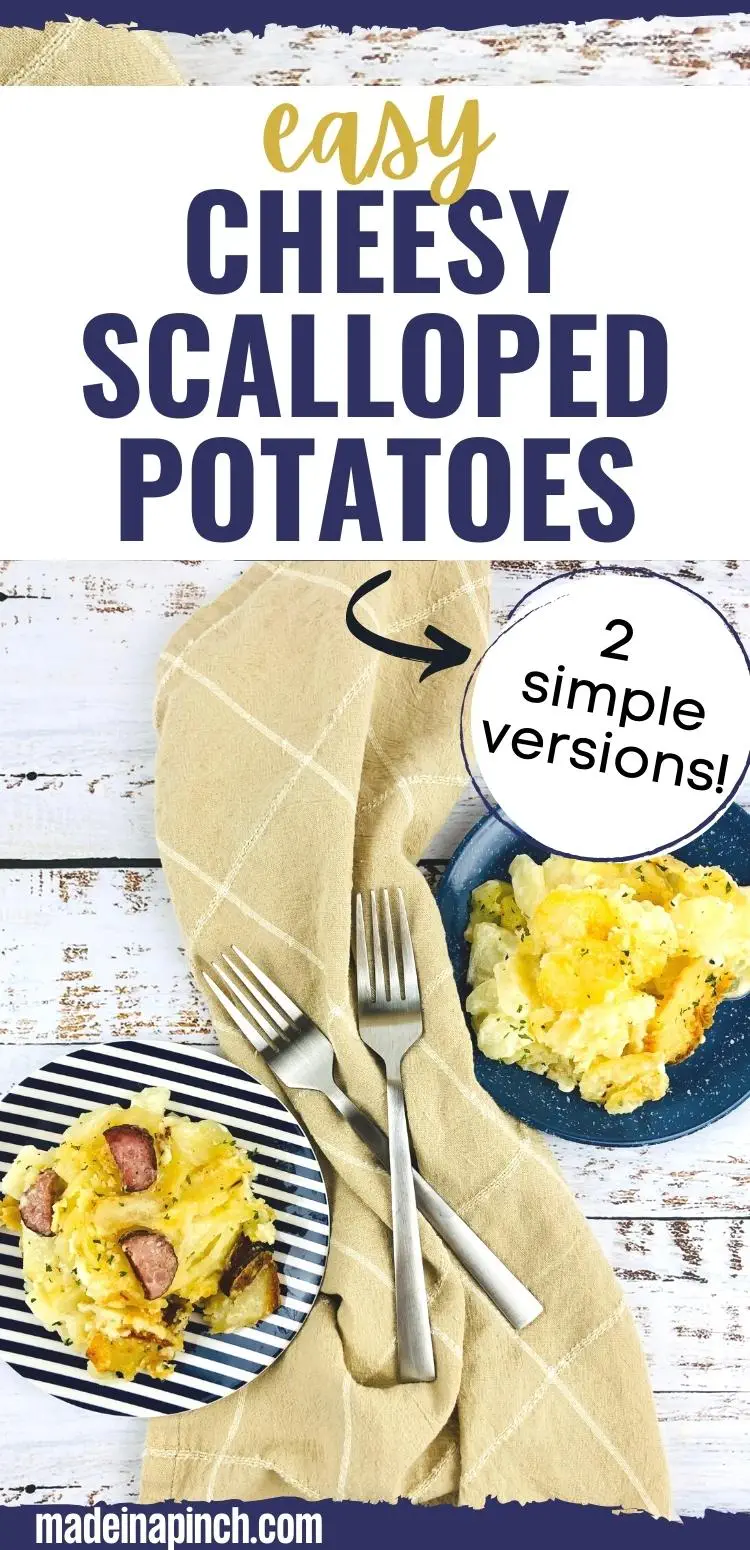 Here's a little-known secret about me (ok, my WHOLE family knows it): I LOVE scalloped potatoes! That cheesy, buttery goodness wrapped around slices of tender potatoes…yum, yum, and more yum.
I grew up eating the stuff from the box and had no idea it was even possible to make it yourself without being a trained chef.
But I'm here to tell you that if you're a recovering boxed food connoisseur like I am, making scalloped potatoes is not only possible, but it's EASY!
I love making these scalloped potatoes for any holiday: Thanksgiving, Christmas, Easter, etc. But I can also make them whenever we feel like enjoying them.
In other words, Easy Scalloped Potatoes are easy enough to make ANY day, but special enough to make for holidays!
I love breaking through my bad assumptions and exploring the big wide world!
If you want more easy and delicious potato recipes, try my Crispy Garlic Parm Accordion Potatoes (TikTok Viral Recipe), The Ultimate Way to Make Baked Potatoes or Bacon, Spinach & Potato Frittata Muffins.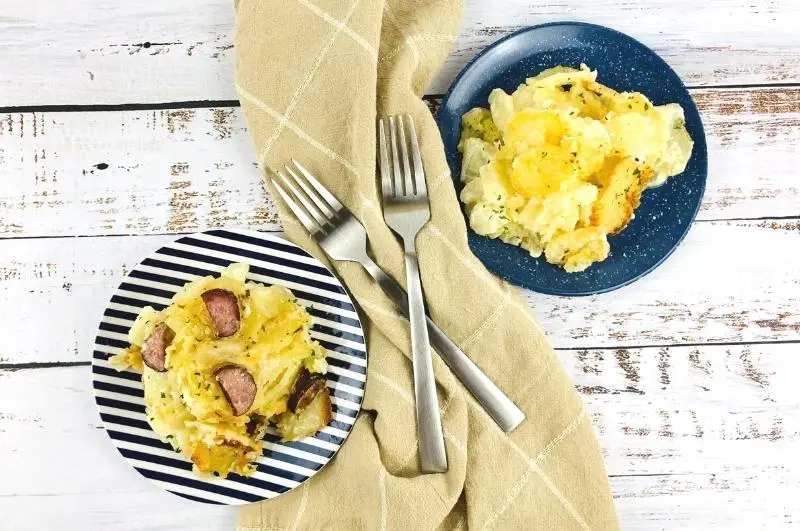 Ingredients Needed For Easy Scalloped Potatoes Recipe
I'm including not one but TWO versions of this recipe so that you can make either version you like. Here are all the ingredients you'll need.
NOTE: if you won't want the sausage version, that's the only ingredient you'll omit.
Russet Potatoes – Yukon Gold are also a good baking potato to use
Smoked Sausage – optional
Butter
Flour – helps act as a thickener combined with the milk
Salt & Pepper – to taste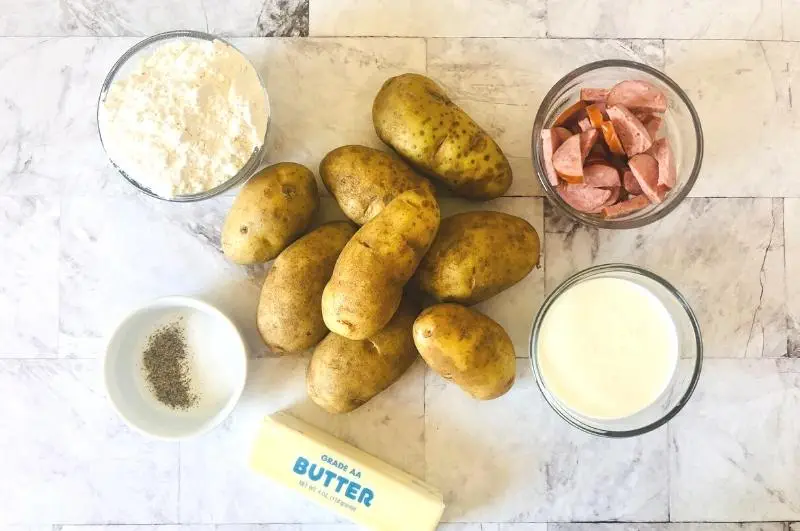 How to Make Easy Scalloped Potatoes
Are you ready to be amazed? There's just one small difference in the steps to differentiate between the versions. I bolded that step to point it out.
Step 1
Prepare a 9 x 13-inch baking dish with non-stick cooking spray and preheat the oven to 350 degrees.
Step 2
Lay down a layer of potatoes on the bottom of the baking dish.
Step 3
If you're adding the sausage to your potatoes, add 1/2 of the sausage on top of the potatoes. If not, skip this step.
Step 4
Place 1/3 of the butter in a layer on top. Lightly sprinkle the top with flour, salt, and pepper.
Step 5
Continue by repeating the layering process in the same order making sure to end with the flour, salt, and pepper on the top.
Step 6
Now evenly pour the milk on the top, making sure the top is thoroughly moist.
Step 7
Bake for approximately 1 hour.
Step 8
Remove from oven and add cheese, sour cream, and other preferred toppings.
Step 9
Serve and enjoy!
Easy Scalloped Potatoes Recipe Notes And Tips
Omit the smoked sausage if you prefer the more traditional scalloped potatoes.
Use a mandoline to slice the potatoes. You will get a nice even slice and can set it to the thickness you desire. A mandoline can be scary and so always be sure to use the hand guard so as not to injure yourself.
If you are going to add garlic or onions to your dish, always cook them slightly first before adding them in during assembly. This will release the acids inside the garlic or onions and will eliminate the worry of the milk curdling during baking.
Keep a close eye on the scalloped potatoes during cooking. Remove them from the oven as soon as they are fork-tender. This will keep the potatoes from getting too mushy.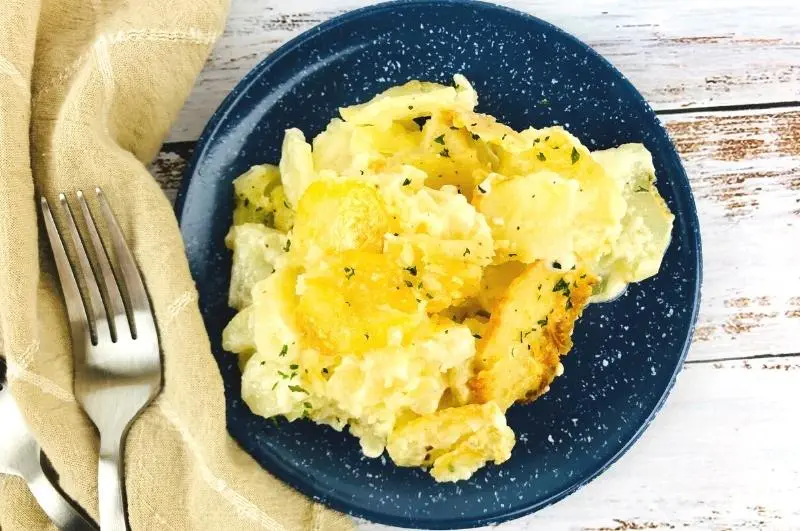 Variations Of Easy Scalloped Potatoes To Try
Cheddar is always a great choice of cheese to add to scalloped potatoes but why not change it up a bit and try something different like pepper jack, mozzarella or asiago. Smoked gouda would be AMAZING with the smoked sausage! YUMMY!
If you want to jazz up the scalloped potatoes, try adding caramelized onion, bacon, garlic, mushroom, green onions or even crumbled sausage.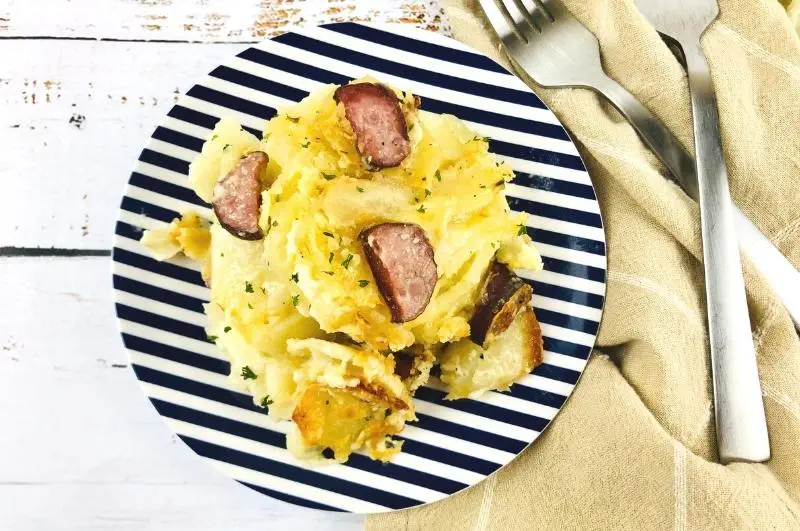 FAQs
If you have questions about this recipe, check below to find common recipes I get from readers. Don't see your question below? Leave it in the comments so I can answer it for you!
Do the potatoes need to be peeled for this Easy Scalloped Potatoes recipe?
Nope! There's no need to peel them. If you like the skin on (I do too), leave them on. Just be sure to wash your potatoes very well before slicing.
Can I slice the potatoes ahead of time and assemble the dish later?
Absolutely! In order to keep them from turning brown, you will need to place them in a bowl of cold water until you are ready to assemble. This will keep them from turning brown.
Why did my scalloped potatoes get watery?
It is best to use a really good quality baking potato such as russet or Yukon Gold with this recipe. Other potatoes can release more water than the starchier ones.
Also, I would not recommend using the pre-sliced potato from the frozen or refrigerated section of the store. They can also have preservatives in them that make them more watery.
How long will scalloped potatoes keep in the refrigerator?
Store any leftovers in an air-tight container and keep refrigerated for 3 – 4 days (seriously will they even last that long??). Re-heat in an oven-safe dish or the microwave.
Can scalloped potatoes be frozen?
Yes, they definitely can. Just be sure they are completely cool before placing them in an air-tight, freezer-safe container. They will freeze nicely for up to 2 – 3 weeks.
Keep in mind that freezing and thawing them may change the texture a bit, but they will definitely still taste delicious!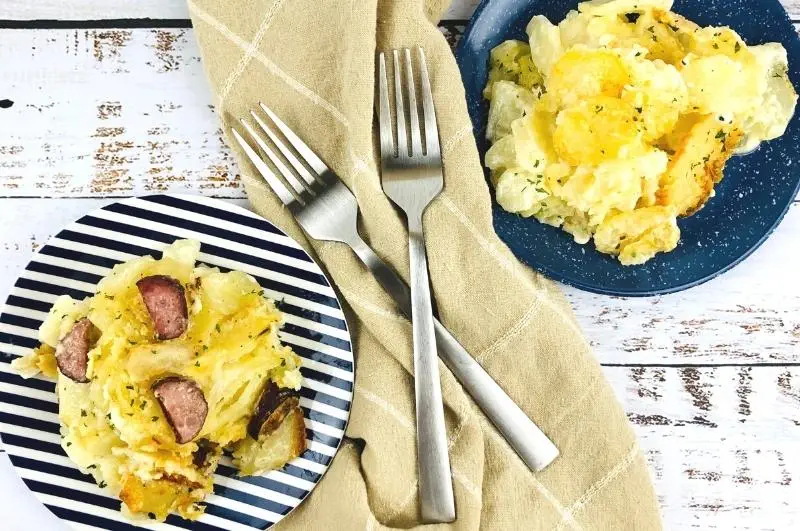 More Easy and Delicious Side Dishes To Try
If you love these easy scalloped potatoes, here are more delicious side dishes you'll love too!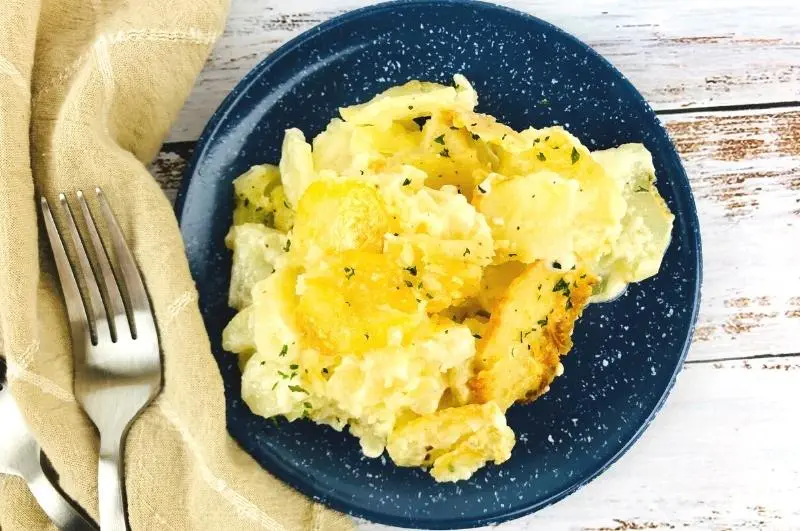 Easy Scalloped Potatoes (2 Ways)
Easy Scalloped Potatoes have creamy layers of potatoes wrapped in a rich, buttery sauce. Simple ingredients transform into a casserole perfect for any day and elevated enough for holidays!
Ingredients
5 lbs russet potatoes, thinly sliced
1 1/2 ropes smoked sausage, thinly sliced
1/2 - 3/4 cup butter
3/4 cup flour
1 can evaporated milk
salt & pepper, to taste
Instructions
Preheat oven to 350 degrees and prepare a 9 x 13 inch baking dish with non-stick cooking spray.
Place a layer of potatoes in the bottom of the dish.
Add 1/2 sausage (or skip this step if making traditional scalloped potatoes).
Layer 1/3 of the butter on top of potatoes.
Sprinkle lightly with flour, salt and pepper.
Repeat layering process making sure to end with flour, salt and pepper on top.
Evenly pour milk on top making sure everything is moist.
Bake uncovered for about 1 hour.
Add cheese, sour cream or any other topping you desire.