Is your child stubborn? Is she just stubborn…or is she strong-willed? What's the difference? Here's how to know if you have a strong-willed child.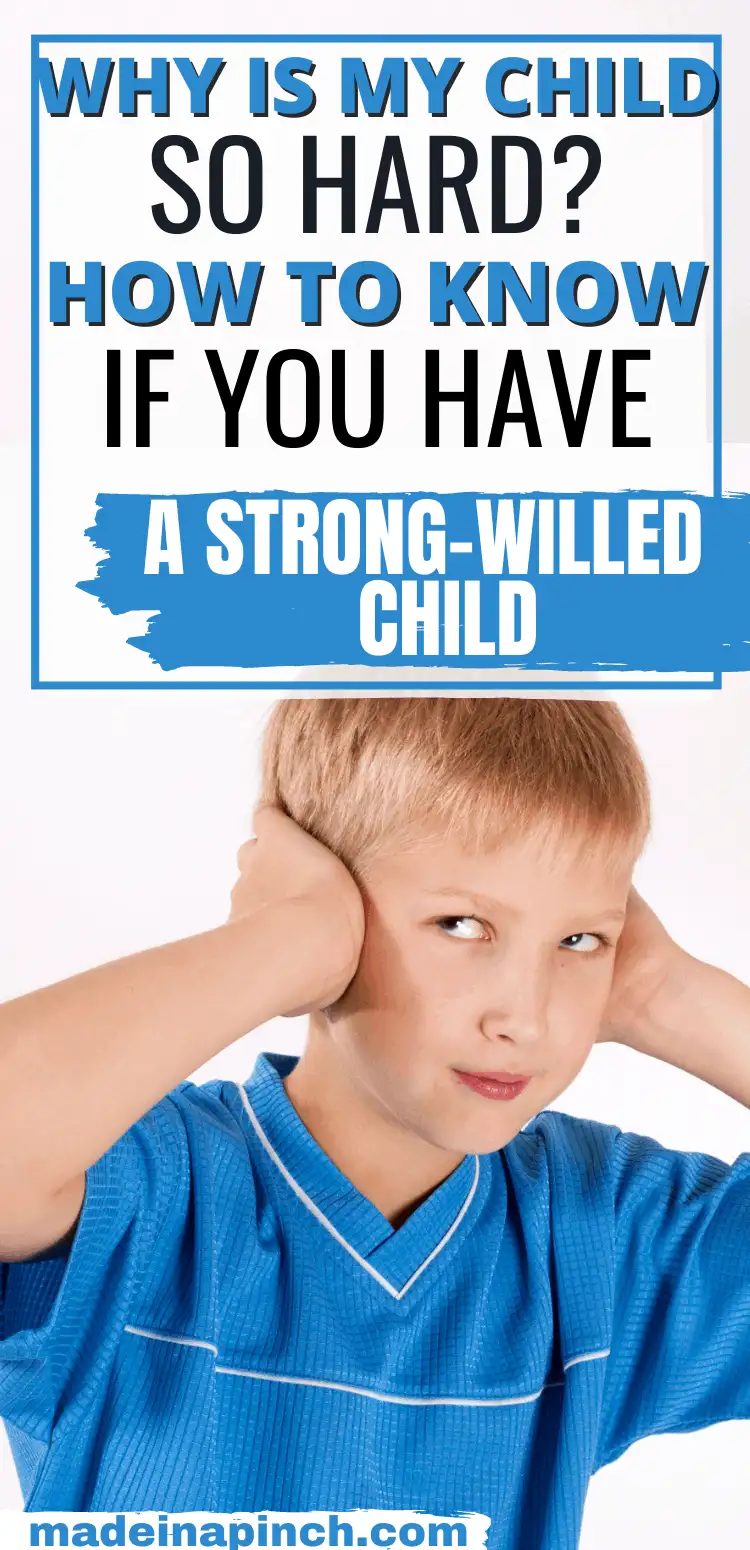 What words would you use to describe parenting?
How about heartwarming, fun, fulfilling, rewarding? Or maybe frustrating, nerve-wracking, scary, maddening, exhausting, intimidating or challenging?
Yes, yes, and yes again!
And when you have a strong-willed child, well, I'm not sure even that entire list really covers it. You know what I mean.
What does "strong-willed child" mean? The term has become a bit of a hot term of late thanks to a few popular books. But if you haven't read them, basically, a strong-willed (or spirited) child is one that strongly knows what she wants and demands to have a sense of control over her life.
Does it make parenting a giant headache? Yes.
Does it make you wonder why kids should "have a mind of their own"? Yes!
Good news – I'm bringing you thoughtful, experienced, and, yes, actually useful, information, techniques, suggestions, and guidance to help you and your child smooth out and even avoid some of those really rough spots.
I'm offering some of what we've learned about the characteristics of strong-willed children through our research AND our own personal experience.
Do you have a strong-willed child? Find out for sure and use my top secrets to raise your strong-willed child AND keep your sanity!

How to Know if You Have a Strong-Willed Child
How do you know if you have a strong-willed child? Well, in my experience, you just know.
Know what I mean?
I have one. I have three boys, and my middle son is most definitely a strong-willed child. My first son isn't particularly stubborn, my middle son is VERY stubborn, and my third son is stubborn but in a different way.
Compared to the other two boys, my strong-willed child is beyond stubborn and a few other characteristics too.
What You Really Need To Know as a Parent of a Strong-Willed Child
The first thing you need to know is you aren't alone. Some researchers have estimated that 85% of families have at least one strong-willed child. 🙋
But the thing you most need to know is you don't have a "bad kid".
The temperament that makes your kid strong-willed, stubborn, opinionated, defiant, unreasonable, and reckless also comes with some pretty awesome upsides.
And because I always like to find the "silver lining", remember that the words "strong-willed" also bring to mind words like:
perseverance
determination
leadership
tenacity
confidence
passion
These may be exactly the qualities that will allow them to become leaders who stand strong for what is right.
If you happen to be blessed (and I really do mean that…99% of the time) with one or more of these incredible little people, here are some of the characteristics you may encounter.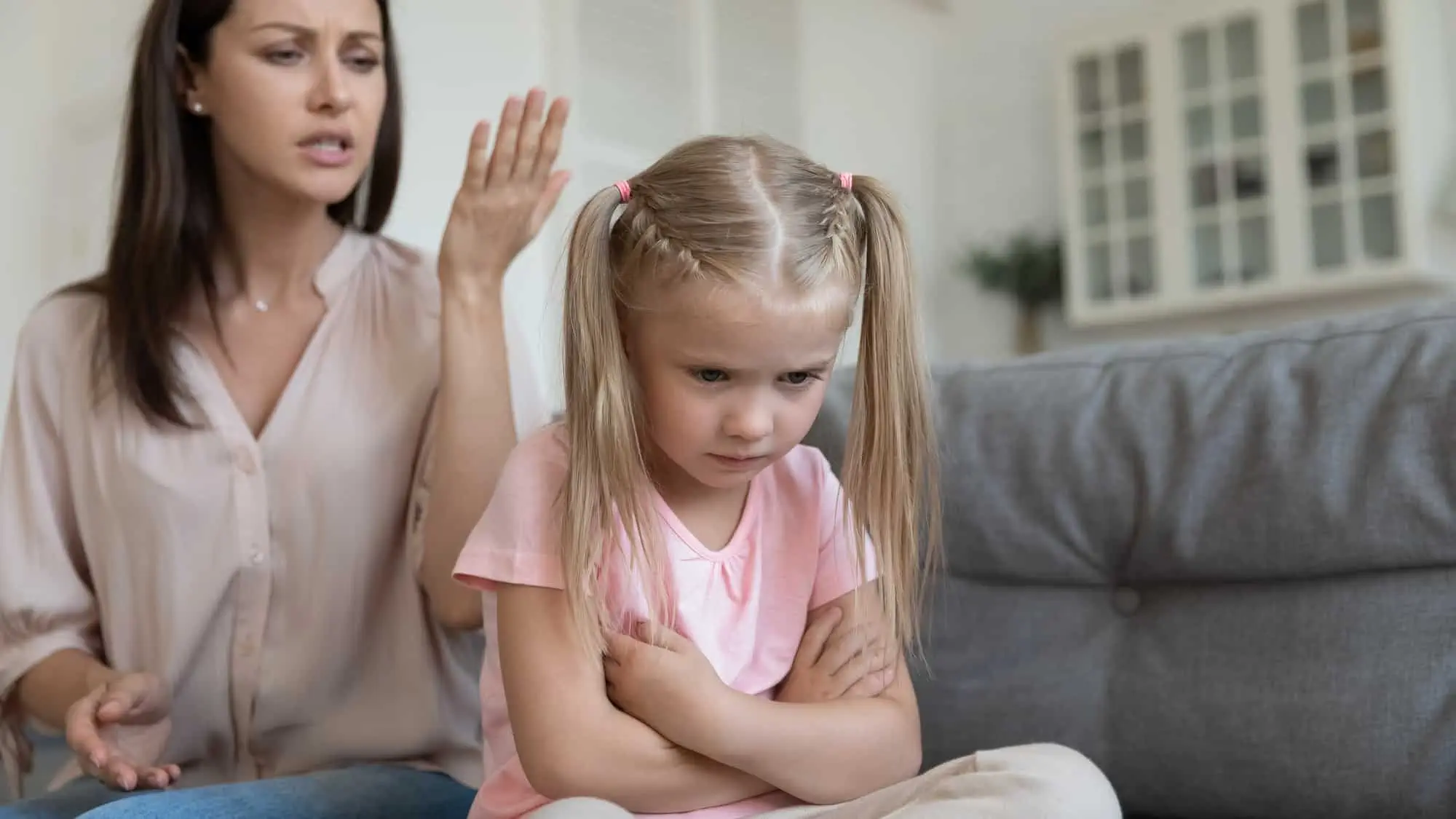 How to Know if You Have a Strong-Willed Child: Behaviors You Probably Know All Too Well
If you have a strong-willed child, you just know. But, I also know that denial and second-guessing yourself can be powerful emotions as parents – that I also experienced.
If you're not sure whether you're the parent of a strong-willed child, check out these behavior examples below. I know I've experienced all of these at one time or another (and sometimes a few at the same time!).
Note: I will refer to the strong-willed child in these examples as a "he" just to make it easier – probably because I have boys. However, if you have girls, these examples can just as easily say "she".
Do you have a strong-willed child? Find out for sure and use my top secrets to raise your strong-willed child AND keep your sanity!

Strong-Willed Child Behavior Example 1: Low Frustration Tolerance
How to know if you have a strong-willed child? You've experienced it; I've experienced it: an exceptionally low frustration tolerance accompanied with intense temper tantrums.
Wow! How can one little person display all that emotion and produce all that noise and commotion?
Has it ever seemed like just saying the word "no" brings about one of these tantrums?
That's how it can be with my son. I can simply say "no" to anything for any reason and as soon as he hears that word, he erupts.
For example, one time when he was fairly young (around 6 or so) we were at a park that didn't have a bathroom. He suddenly decided he needed to go really badly and demanded a bathroom. I told him there wasn't one nearby but he could use a travel potty that I kept in our minivan. He had it in his head that he needed a true bathroom and had a major fit complete with screaming and running around erratically.
Or another time I was letting the boys play video games. They had been told ahead of time that they had a certain amount of time to play and when that time was done it was time to get off and do something else. Well, that time arrived, and my son asked if he could play longer. As soon as I said "no" it was over. Instead of accepting that already known answer, he had a complete fit and threw the remote, yelled, and cried. And for the record, he didn't get to play video games for a while after that 😒
Behavior Example 2: Asking Why
Strong-willed children demand to know "why" over and over again in all sorts of situations. All kids go through a "why" phase, but strong-willed kids go beyond that. In fact, my 11-year-old can still "why" with the best of them.
He will literally ask about something and I'll give him an answer. Thus begins the "why" session from h*&%.
If you find yourself reaching the point where you say "because that's the way it is" or "because I said so" or some other version of that, you aren't alone!
Strong-Willed Child Behavior Example 3: Arguing
Your child stubbornly argues, about anything, creating constant power struggles.
Forget chores or homework (although he'll argue over these), but he can even do this over something he likes.
My son loves to play outside, and I remember one day I suggested that he had some free time and could go play outside. He argued with me about how he couldn't do something he loves to do!
He'll do the same thing over eating food (new or a favorite) or trying a new book series or fun art project. Anything!
And forget about fights with his brothers. He simply cannot let those go at all and will keep bringing them up even after his brothers have let it go.
Behavior Characteristic Example 4: Bossiness
Bossiness – Hello, Mr. Know-it-all! This kid has a pretty unshakable belief in his own ideas of how things should be done.
My son and I butt heads all the time over how to do things. He has a creative way of solving problems anyway, but even when I tell him that certain things need to be done a certain way, he'll argue with me.
Some might call him a leader in the making because he's constantly tell his brothers what to do or pointing out when they're doing something they shouldn't be.
We call it focusing on everyone else but himself because while he's so busy being focused on his brothers, he's not taking care of the things he needs to do. Or he's breaking rules himself. Or walking out the door without shoes on the way to school. 🤦‍♀️
Raising a Strong-Willed Child Example 5: Refusing to Comply
He'll put his opinions and "needs" up against yours any day of the week.
Here, I would argue that he puts his wants above everything else at times. He'll get himself into trouble by sneaking his Kindle when he shouldn't be playing on it or he'll skip doing a school assignment simply because he doesn't want to.
He knows what his teacher expects him to do and I expect him to do it. But he's rather read his book or play a math game instead of doing the assignment.
Behavior Example 6: Impatience
How to know if you have a strong-willed child? Has your child just completely lost it over having to wait for something they don't want to wait for? An ice cream cone…their favorite activity…you finishing what you're doing so you can pay attention to them?
A screaming temper tantrum can be caused by the grocery check-out line taking too long? Oh, yeah. Trust me, I've been there many times.
He wants what he wants WHEN he wants it. Or look out.
Do you have a strong-willed child? Find out for sure and use my top secrets to raise your strong-willed child AND keep your sanity!

Strong-Willed Child Behavior Example 7: Make Their Own Rules
He'll make his own rules about anything from a board game to bedtime and believe anyone who doesn't follow them is being unfair to him.
Unfortunately, my son is the king of this. His brothers hate playing games with him sometimes because he'll make up rules as he goes and then accuse everyone who doesn't follow them as being mean to him or not playing fair.
And it doesn't matter if I remind him to play fair, follow the official rules, or anything else, he just won't wrap his brain around anything different than what he thinks at that moment.
Behavior Characteristics Example 8: Knowing the Difference Between Need and Want
Strong-willed kids struggle with the difference between "need" and "want," and have a strong focus on fairness – often believing he's getting the short end of the stick even when he's not.
My son often feels that any "want" of his is a "need" and he must do whatever it takes to satisfy it. That might be what he wants for breakfast, wanting to play video games, not wanting to go to school, etc.
Behavior Example 9: Overstimulation
Overstimulation can easily come in any form: too much noise or excitement, the anticipation of an exciting event, too much screen time, and more.
For my son, all of the above apply, but especially things like eating too much sugary foods/desserts, playing video games, or having a friend come over.
Characteristic Example 10: Moving at Their Own Pace
How to know if you have a strong-willed child? They move at their pace and their pace alone.
My son is famous for this move, and unfortunately, he knows it really pushes my buttons. 🤦‍♀️
We'll be leaving the house to go to school (or anywhere) and he'll run to the bathroom – and be in there for 10 minutes. He cannot seem to use the bathroom quickly. He'll do the same thing whether we are walking out the door or hanging around the house, so it's not a behavior to avoid leaving. It's just usually terrible timing!
Another example: I'll ask him to go to his room to calm down if he's upset, and – if he complies – he'll move at a snail's pace goading me on to make him go faster.
Behavior Example 11: Ignoring Warnings
My son is the KING of this. It sometimes seems like he has selective hearing. And threats and warnings meant NOTHING to him.
Especially when he was a toddler (but now too), he almost seems to take warnings and treats as a challenge. It's as if he was thinking "oh yeah, let's test to see if she's serious."
For example, With my first son, I would be leaving and if he was preoccupied with something I would pull that classic "ok, bye! See ya later" move while waving to him and acting like I was going to leave. He would promptly start running to me saying "mama! mama!" and that would be the end of it.
With my strong-willed child, if he got busy with something (for example at the park) and it was time to go, I would try the same tactic after asking him once or twice to come. He would ignore me. When I tried the "bye!" move, he'd simply say "bye!" back to me – if he even acknowledged me at all!
Do you have a strong-willed child? Find out for sure and use my top secrets to raise your strong-willed child AND keep your sanity!

How to Know if You Have a Strong-Willed Child Conclusion
Do these behaviors sound (painfully) familiar? Having a strong-willed child makes raising him or her more difficult in some ways than raising many other kids. And trust me, I feel your pain because I live it too.
However, I do believe that if you can help them learn how to harness these qualities in a positive way, that they can be assets far more often than drawbacks as adults.
More than anything, the biggest takeaway I want you to get from this post is that strong-willed children are NOT "bad kids". They're really just kids who know what they want and have a very strong determination to do things their own way.
Stubborn…or determined? It's all in how you look at it, right? It's really two sides of the same coin.
Who knows, your headstrong child just might be an excellent leader – who's not afraid to stand up for what she believes – in the making!
Wondering how to parent your strong-willed child? Check back for my next post about strong-willed children:
Do you recognize any of these strong-willed child characteristics? How do you deal with them and does it work (comment below!)?
More Parenting Inspiration
Pin for Later!