Nutter Butter Leprechaun Cookies are a delightful, no-bake recipe to make for school parties or a yummy treat to share with your neighbors and friends.
Do leprechauns truly exist? No, they don't but they are certainly fun fictional characters that help us celebrate and enjoy St. Patrick's Day.
Have you seen our EASY Leprechaun St. Patrick's Day Gnome Treats? They're so cute!
St. Patrick's Day is approaching quickly and I am always on the lookout for a fun, easy, and inexpensive snack or treat to share with my children's teachers, classmates, or neighbors.
Aren't these cookies adorable! It's super easy to turn Nutter Butter cookies into leprechaun decorated cookies that are perfect for all your St. Patrick's Day parties.
All you need is a few inexpensive ingredients and a package of Nutter Butter cookies.
Your kids will want to pitch in and help decorate…..and eat these yummy and adorable cookies. And even better, no baking involved. 🙂
Your family and friends will be the lucky ones this St. Patrick's Day for sure!☘️
If unique and tasty cookie recipes are your favorite treats, try my Easy No-Bake Easter Bird's Nest Cookies, Chocolate Caramel Shortbread Cookies, or Vanilla Crinkle Cookies.
Ingredients Needed For Nutter Butter Leprechaun Cookies Recipe
Nutter Butter Cookies – make sure they are the full size Nutter Butter cookies
White, Green and Orange Cookie Frosting – easy to find at your local grocery store
Sugar Deco Eyes – should be fairly easy to find at the grocery store or local arts and crafts store
Edible Gold Glitter
Shamrock Sprinkles – order online or look for them locally on a seasonal basis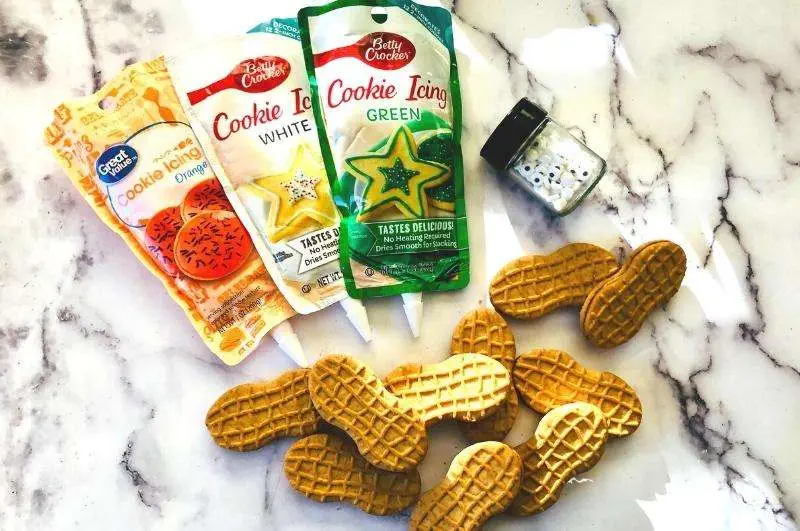 How To Make Nutter Butter Leprechaun Cookies
Step 1
Begin by laying out the Nutter Butters in a row or group.
Step 2
Using green frosting or cookie frosting, spread or pipe on a hat on the top portion of the cookie.
Step 3
Now using cookie frosting, place two small dabs of frosting right under the rim of the had and attach the sugar eyes to the white frosting.
Step 4
With the orange cookie frosting, create a beard similar to the one shown.
Step 5
Allow the hat and beard frosting to set.
Step 6
With the white cookie frosting, pipe a thin line on the hat to form a band. Before it dries, sprinkle on the glitter and attach the shamrock sprinkle.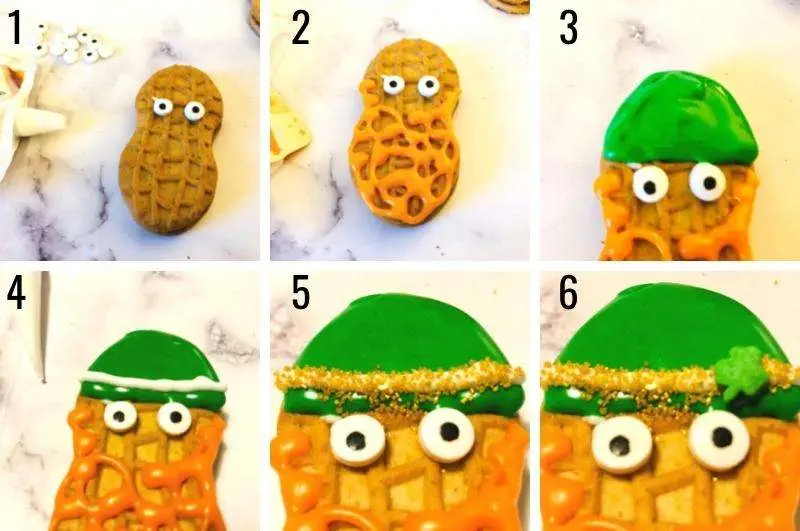 Step 7
Enjoy your yummy Nutter Butter Leprechaun Cookies!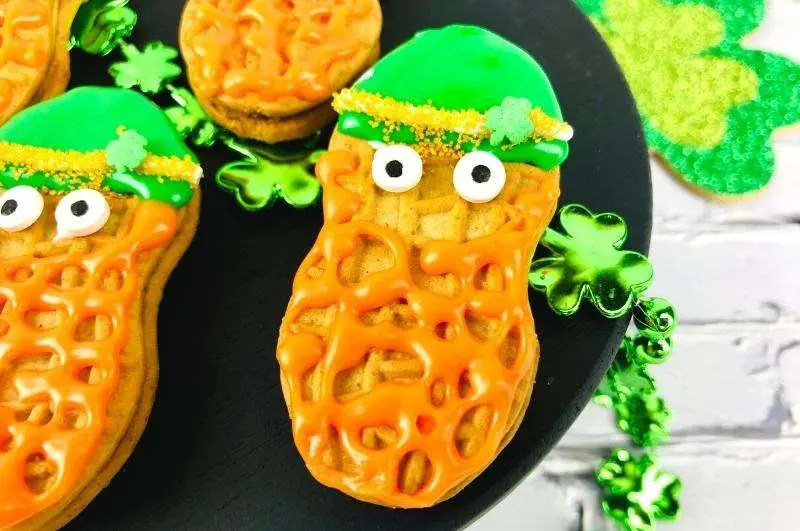 Nutter Butter Leprechaun Cookies Recipe Notes And Tips
There are about 32 cookies in a package of Nutter Butters. This will help you when planning the number of leprechauns you are going to make.
Lay the cookies down on a parchment lined cookie sheet in rows. This will help the decorating process go more smoothly and efficiently.
The amount of time it will take for the icing to set is dependent on the thickness and consistency of the icing.
Don't forget to sprinkle the glitter and put the shamrock sprinkle on the hat band before it dries. 🙂
Variations Of Leprechaun Cookies To Try
Use black cookie icing to make the beard and the band on the hat for a different look.
Make the whole beard solid by filling it in with cookie icing. Then when the beard is set go back and add fun curly swirls with the same color cookie icing.
If you are feeling a bit adventurous, use candy melts and dip the cookies into the melted chocolate to create the hat and beard.
Add a little green edible glitter to the top portion of the hat to give it even more sparkle and pizazz.
Step outside the box and make the hat and beard any color you want. Just be creative and have fun!
FAQs
What is the difference between cookie icing and regular icing?
Regular frosting or icing is thicker and is used for covering or coating baked goods. Cookie icing is thinner and will give your cookies the appearance of a shiny and glossier finish.
Can I put the cookies in the refrigerator or freezer long enough for the icing to set?
I would recommend not putting them in the fridge or freezer to set. The icing and cookies will attract condensation and may not dry at all or slow down the process even more.
How do I store my Nutter Butter Leprechaun Cookies?
It would be best to store these Leprechaun Cookies at room temperature. If you keep them in the fridge the cookies will become soft because the icing with become too soft and wet. Store them in an airtight container or freezer bag.
Can these Leprechaun Cookies be frozen?
With these cookies, I would not suggest that you freeze them. The moisture in the icing could be an issue during the thawing process and the taste and texture of the cookies may be compromised.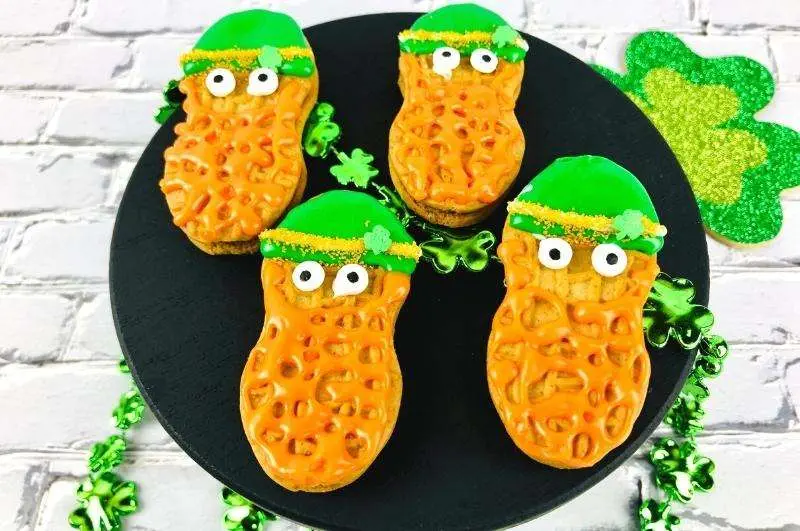 More Holiday Themed and Party Pleasing Cookies To Try
Nutter Butter Leprechaun Cookies
Ingredients
Nutter Butter Cookies
White, green and orange cookie frosting
Sugar deco eyes
Gold edible glitter
Shamrock sprinkles
Instructions
Use green cookie frosting to make a hat at the top of the cookie.
Use a small dab of white cookie frosting to attach sugar eyes directly under the hat.
Use orange frosting to create beard as shown.
Allow the hat and beard frosting to set.
Use white frosting to form a band on the hat, sprinkle on glitter and attach a shamrock sprinkle.
Your leprechauns are ready!