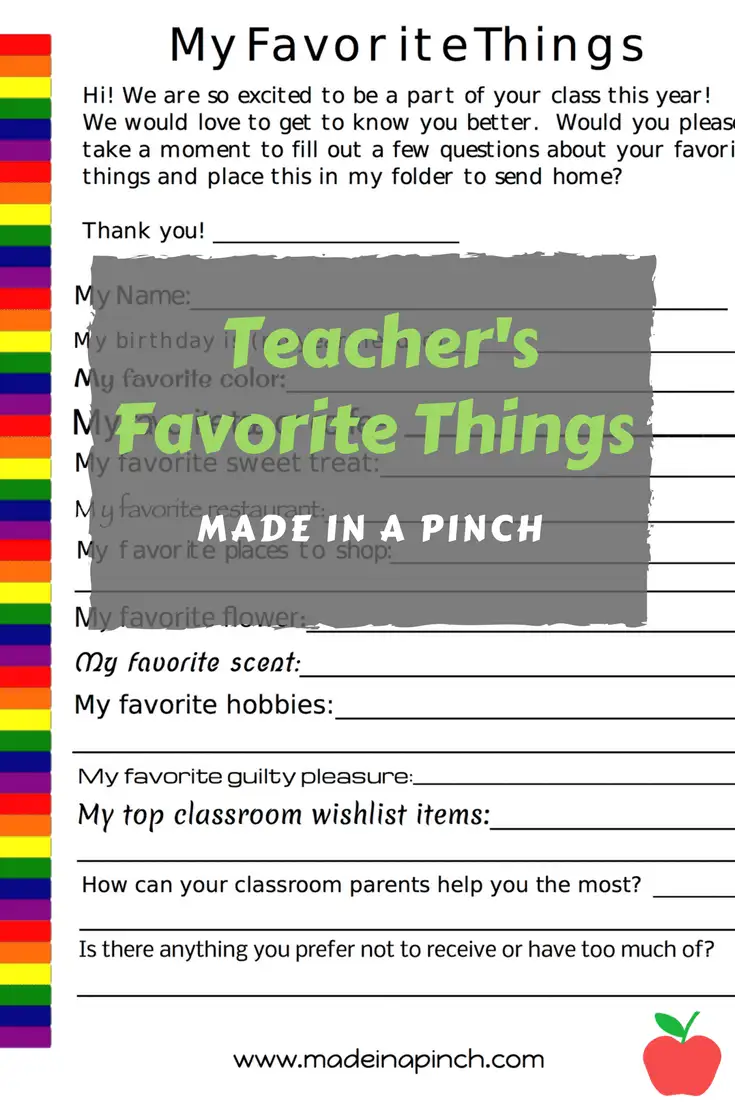 It's that time of year…kids are heading back to school. Parents are getting to know brand new teachers. Families are building new routines.
Students get to know their teachers fairly quickly because they spend so much time together. Students and teachers, alike, share tidbits about each other throughout the year allowing for relationships to develop naturally.
However, it can take much longer for parents to get to know the teachers.
Thus, an area where this lack of knowledge can be slightly problematic is in gift giving.
Do you tend to give standard gifts…apples or fake apples, Starbucks gift cards, plaques with cute sayings, or mugs?
I work hard to put thought into gifts for people. I really want the gifts that I give someone to be useful, practical, and enjoyable!
And I also want to get to know the people with whom I'm entrusting my children's lives for 7+ hours a day!
It's natural to want to give teachers gifts – for holidays, teacher appreciation celebrations, retirement gifts, etc. They work so hard to help our kids! I think it's very important to show our appreciation for all they do.
It's no secret that schools are underfunded and teachers are underpaid. Further, did you know that most teachers spend quite a bit of their own money on supplies for their classrooms and lessons?

Teacher's Favorite Things
I decided a few years ago that I wanted to make an effort to get to know my children's teachers more. And I wanted to start right away at the beginning of the school year.
So I came up with an idea for giving my kids' teachers a sheet at the beginning of the school year to fill out for our family. This sheet is all about the teachers! What they love, what they want more of, what they have plenty of.

Because, let's face it…no matter how much any one person loves Starbucks, there is a limit to how many Starbucks gift cards they can keep track of. And there is only so much space for cute apples or any other memorabilia.
One of the most interesting answers I have ever received from these questions was the request for an electric pencil sharpener.
Talk about useful, practical and making life much easier for that teacher! That was what our family gave her that year for Christmas, along with a couple of small favorite items for fun.
This form has also been used as a PTA tool for making school-wide teacher's wish lists!
Now that the kids are heading back to school, feel free to print out this form and hand it to your child's teacher. I feel confident that you'll be glad you did!
Let us know in the comments below: how do you get to know your child's teacher?
Check out these other popular posts: