Air Fryer Carrot Fries are incredibly tasty. Quick, easy, healthy, delicious, and pairs well with almost any meal.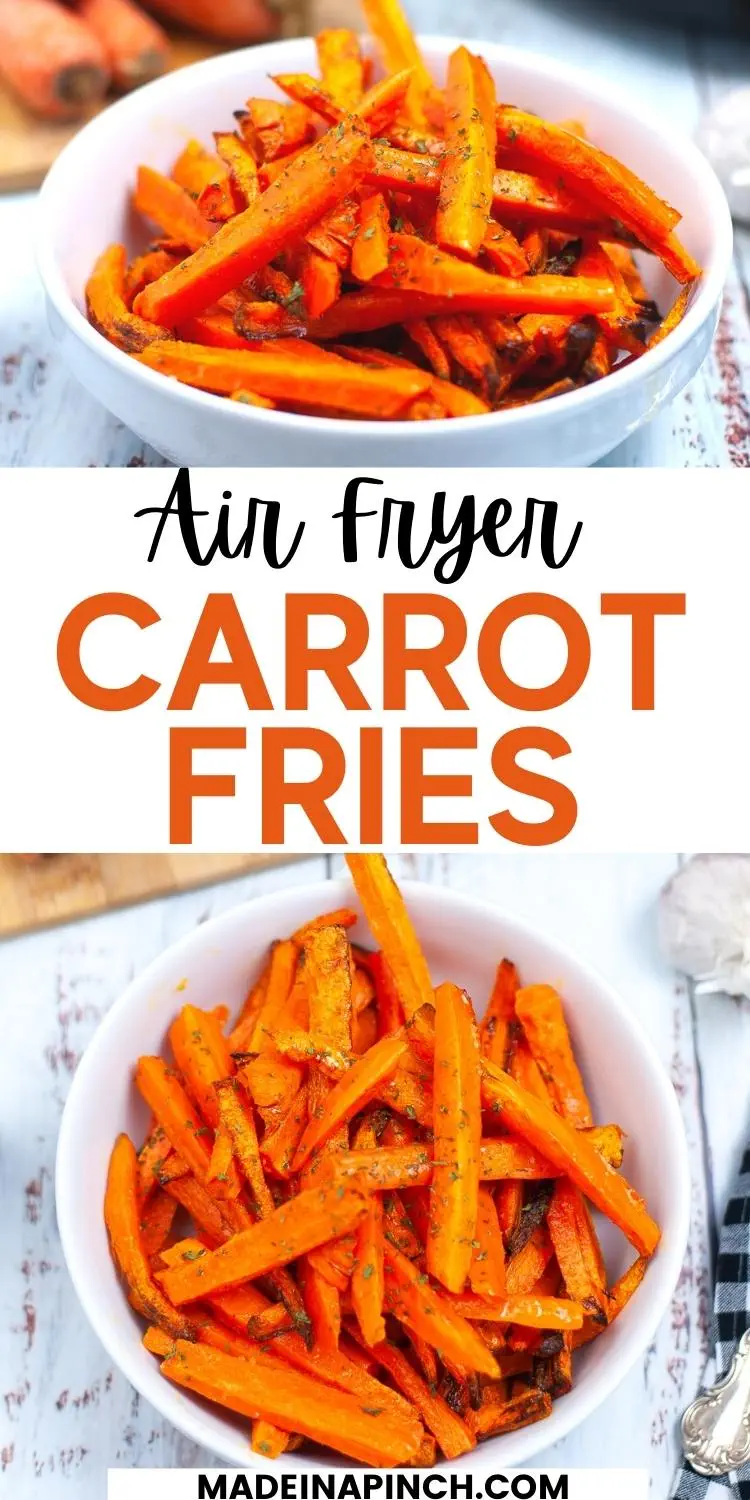 I'm always looking for ways to get more veggies into my kids. As far as kids go, they do pretty well with eating veggies. I've given them a combination of steamed broccoli, cauliflower, and carrots ever since they were old enough to each them, so they usually eat that without complaining.
Other veggies are a different story, but we eat them too and try to mix things up.
At least when push comes to push, I figure if I can get those three basic vegetables into them on a regular basis, we've got a good start toward healthy habits, right?
Today I'm combining my quest for "keeping it interesting" with my newfound love for the air fryer (I know, I'm late to the game – but better late than never!) by making Air Fryer Carrot Fries!
If you've ever wondered what carrot fries are like, think of sweet potato fries, and you'll be close. YUMMMMM!!!
If you want more delicious air fryer recipes, try my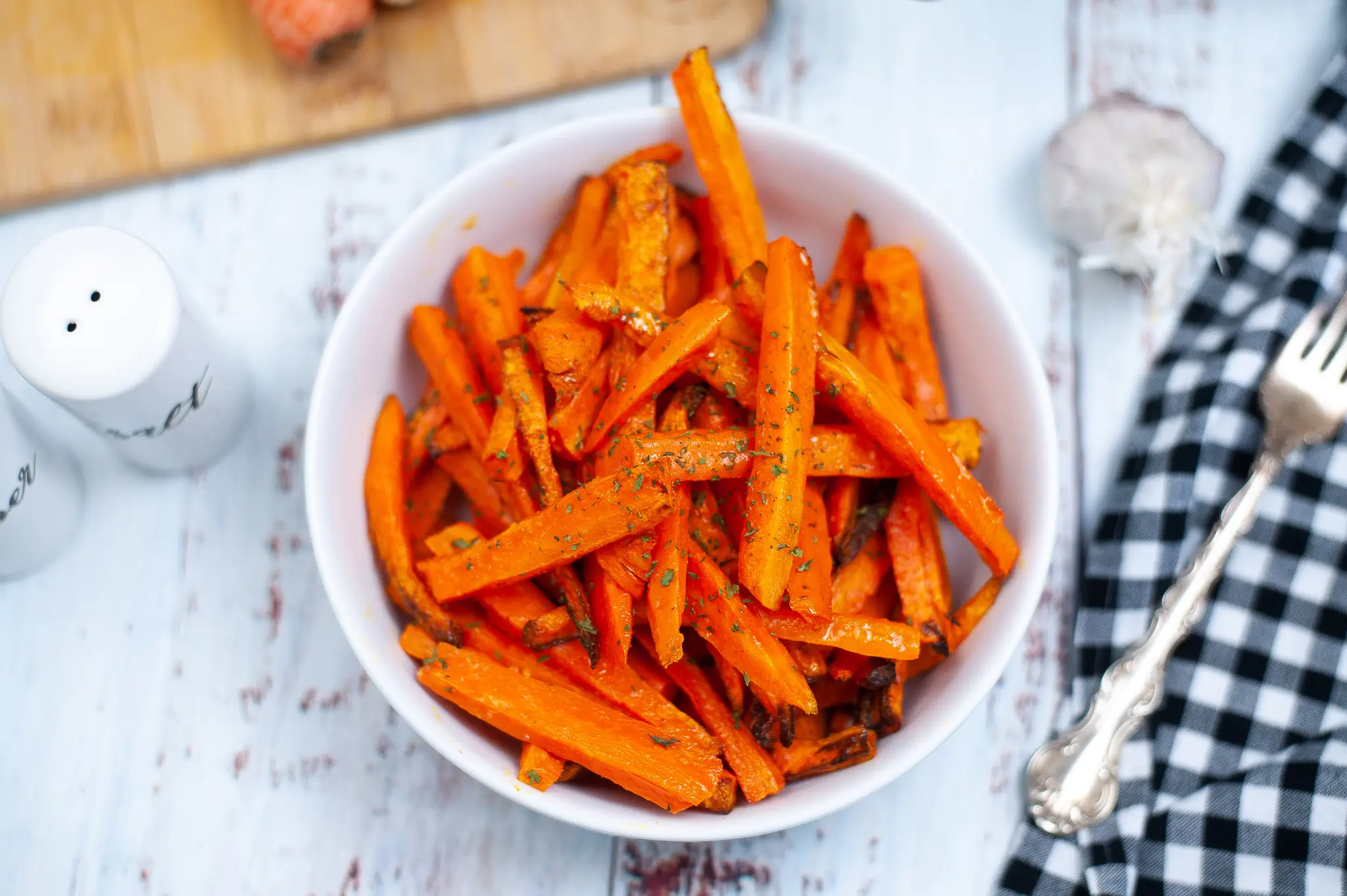 Ingredients Needed For Air Fryer Carrot Fries
Carrots – cleaned and peeled
Olive Oil – virgin, extra virgin or avocado oil
Garlic Powder
Salt – table or sea salt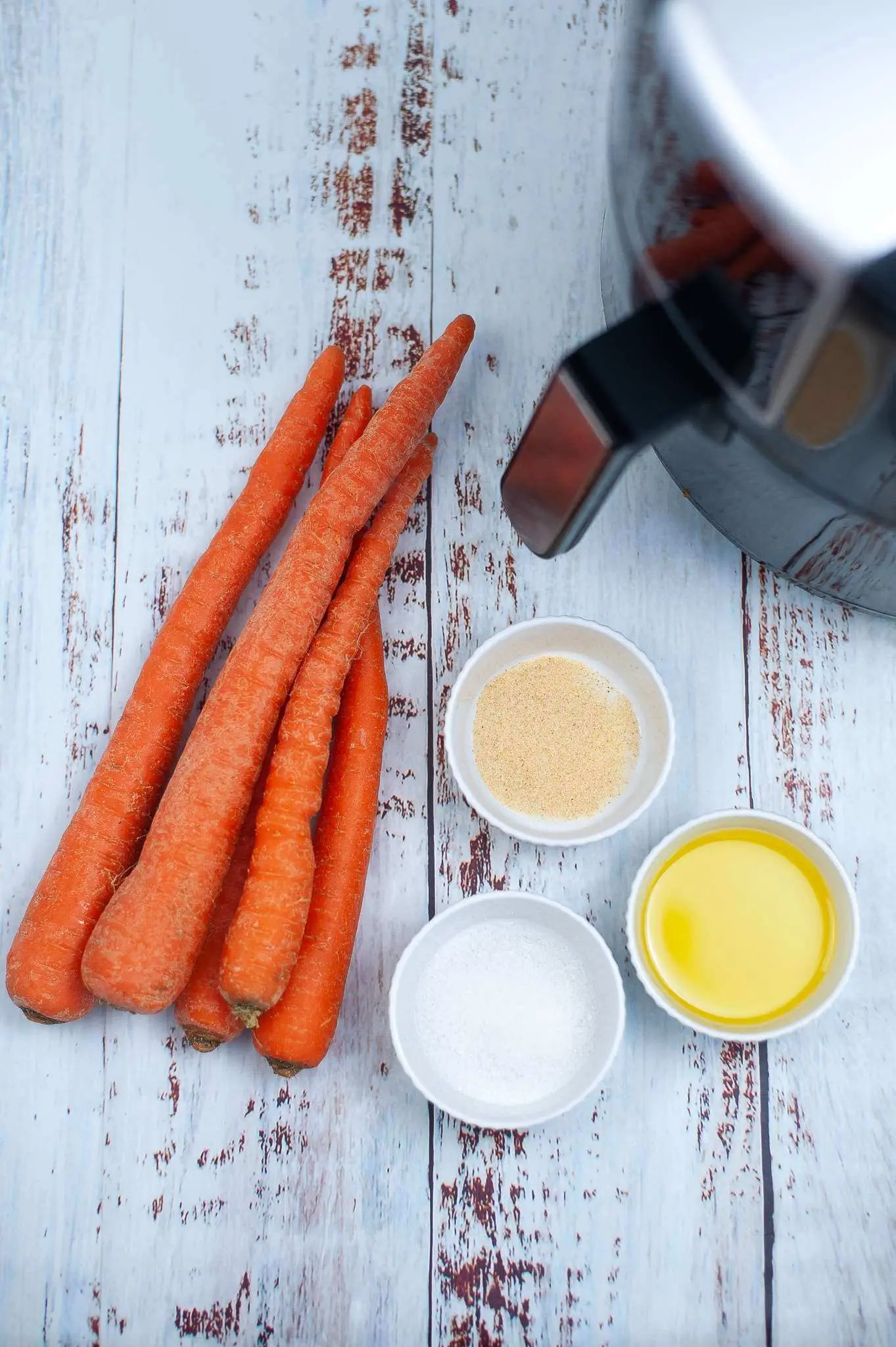 How To Make Air Fryer Carrot Fries
Here's the process for making these AF carrot fries. Get ready to say hello to your new favorite veggie side dish!
Step 1
Begin by removing the tops and skin off of the carrots.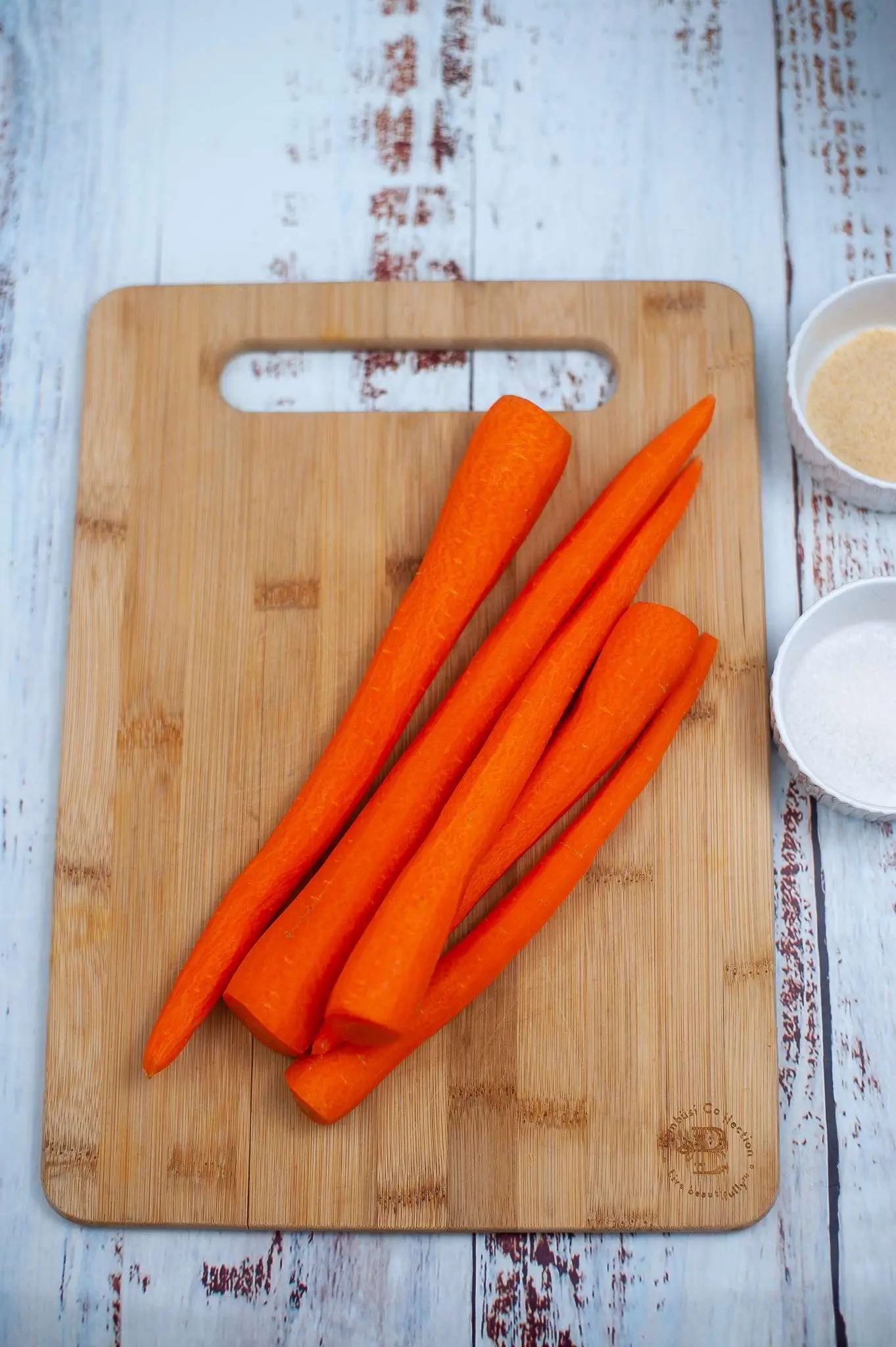 Step 2
Next, cut carrots in half. Then cut them in thirds length-wise.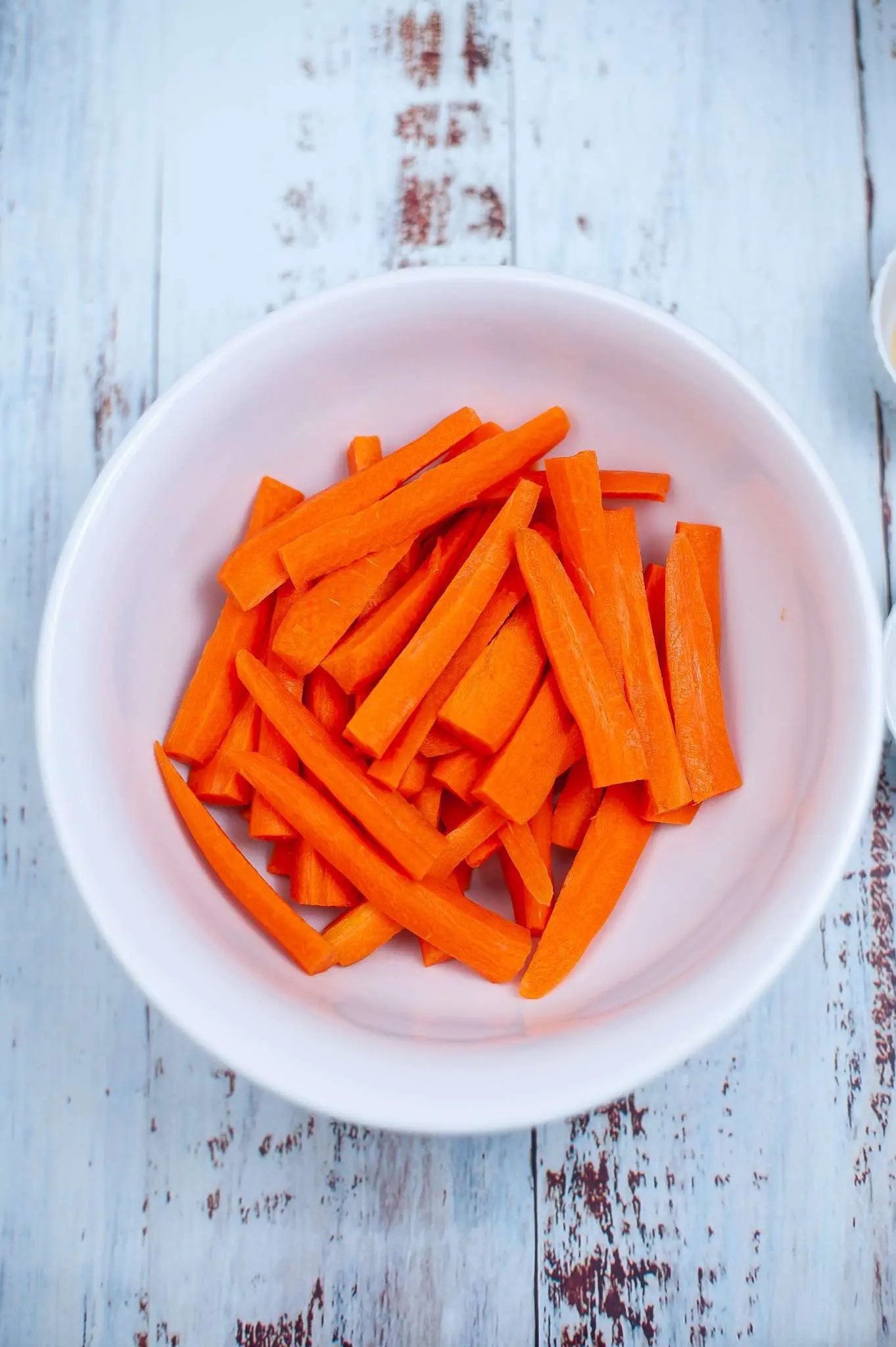 Step 3
Place the carrot sticks into a medium-sized bowl and toss with olive oil, salt, and garlic powder.
Step 4
Next, put the carrots in the air fryer, making sure they are not too crowded. You will want there to be sufficient airflow around the carrot sticks.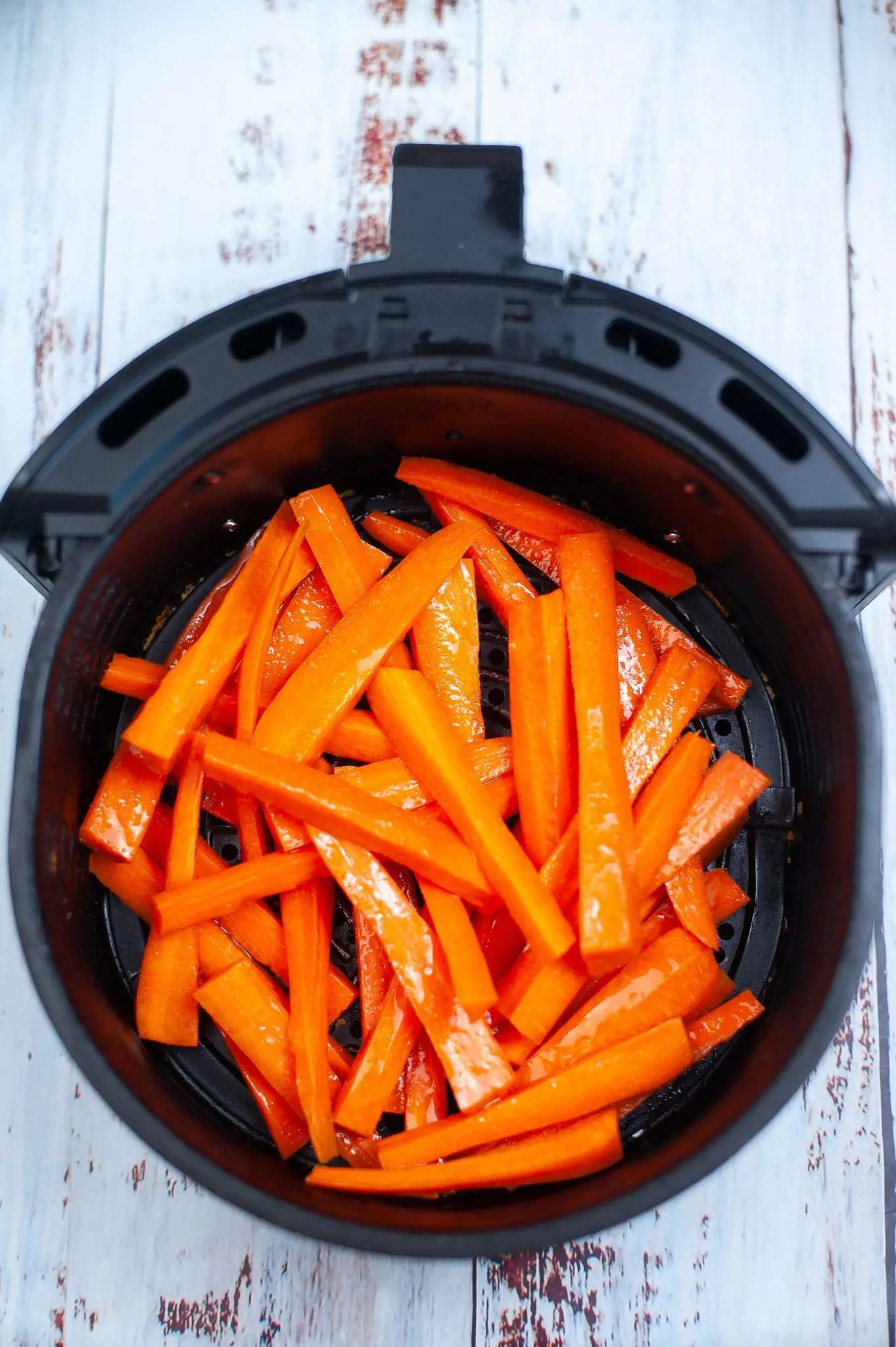 Step 5
Air fry for 10 minutes at 370 degrees.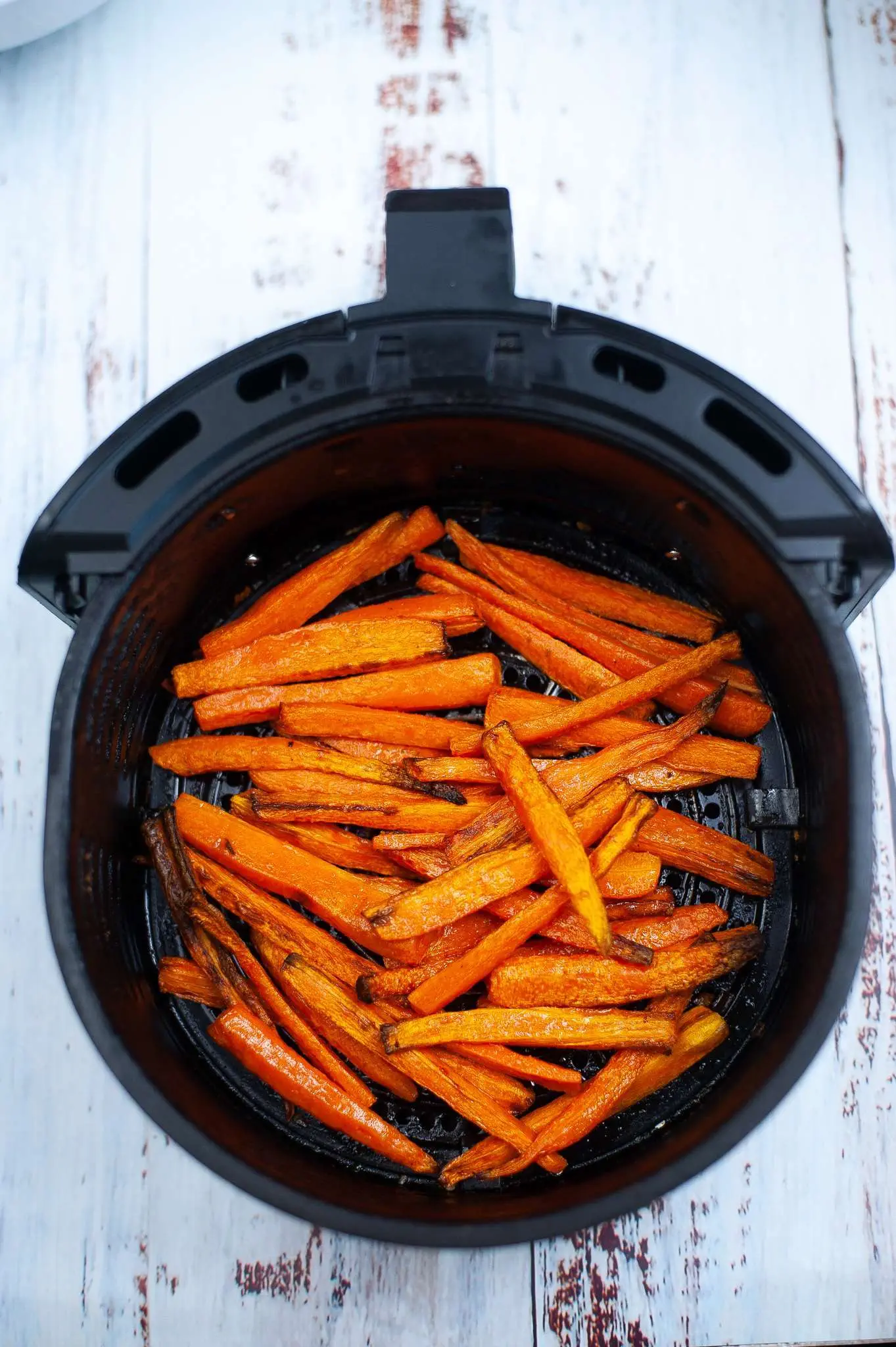 Air Fryer Carrot Fries Recipe Notes And Tips
Once you have washed and peeled the carrots, I would suggest dabbing them dry either before or after slicing to remove a little excess moisture.
Keep in mind that the larger the carrot pieces will take longer to cook. So make sure they are all relatively the same size.
Shake the air fryer basket about halfway through the cooking process for crispier fries.
Leave the fries in an extra minute or so if you like them a little extra crispy.
Use baby carrots in place of the regular-size carrots. Quarter them lengthwise with no peeling. 😉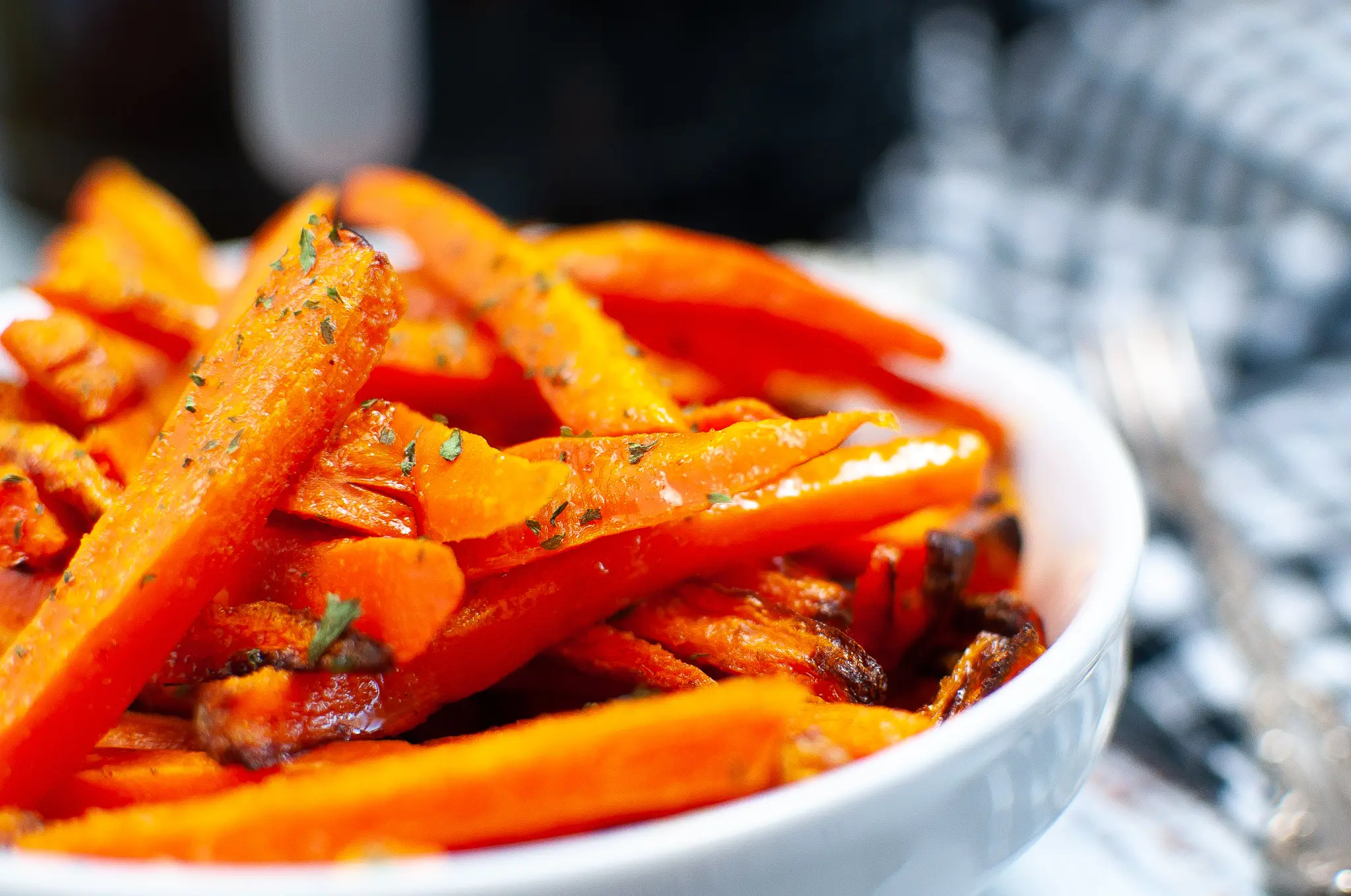 Variations Of Air Fryer Carrot Fries To Try
Toss the oil-covered carrot fries in some parmesan cheese before popping them in the air fryer. Yum!
Sprinkle with red pepper flakes, cumin, or smoked paprika before baking for a little extra zip!
Add a side of dipping sauce to the carrot fries such as ketchup and sriracha or a delicious aioli sauce.
Make crinkle-cut carrot chips instead to save yourself a little slicing time.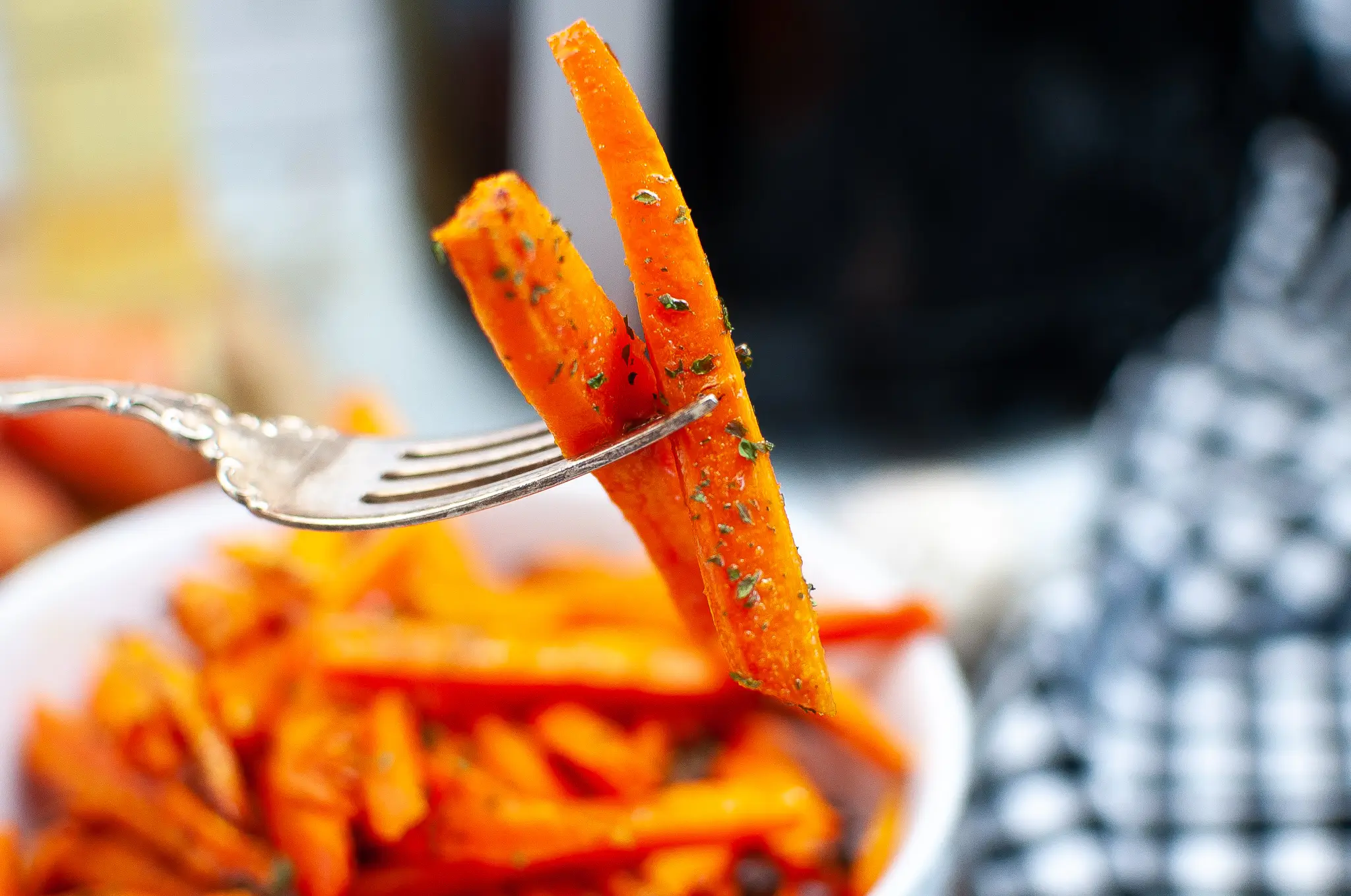 FAQs
How are these air fryer carrot fries healthier than regular french fries?
Yes – they are healthier for a couple of reasons! First, they're not fried in oil but rather are "fried" with air.

And secondly, carrots contain fewer carbs than regular potatoes do.
Can I make these carrot fries in the oven if I do not have an air fryer?
Of course! 😉 You will just have to place them on a baking sheet and bake them at a higher temperature for a bit longer.

Start out at 425 degrees for 20 – 25 minutes. If you want them a little crisper, cook them for another couple of minutes.
How long will my leftovers keep in the fridge?
Air fryer carrot fries will keep in the fridge for 2 – 3 days if kept in an air-tight container or resealable plastic bag.
What is the best way to reheat my air fryer carrot fries?
There are a couple of good ways to reheat these fries.

Either pop them back in the air fryer at 375 degrees for about 4 – 5 minutes until they crisp back up. Or you can place them on a baking sheet in the oven at 425 degrees for 8 – 10 minutes.
Can I freeze the carrot fries?
My best recommendation would not be to freeze the cooked carrot fries. Go ahead and eat them all because you already know how healthy they are, right?! 😁

However, knowing how much you are going to LOVE these little morsels, go ahead and peel and slice a large batch of carrots. Divide them up into freezer bags or freezer-safe containers with the amount that best suits your family.

Mark the date on the bags or containers and place them in the freezer. This will save you a lot of work the next time you are ready to make them again. You can prepare them as soon as you take them out of the freezer.

They will keep in the freezer for up to 12 months.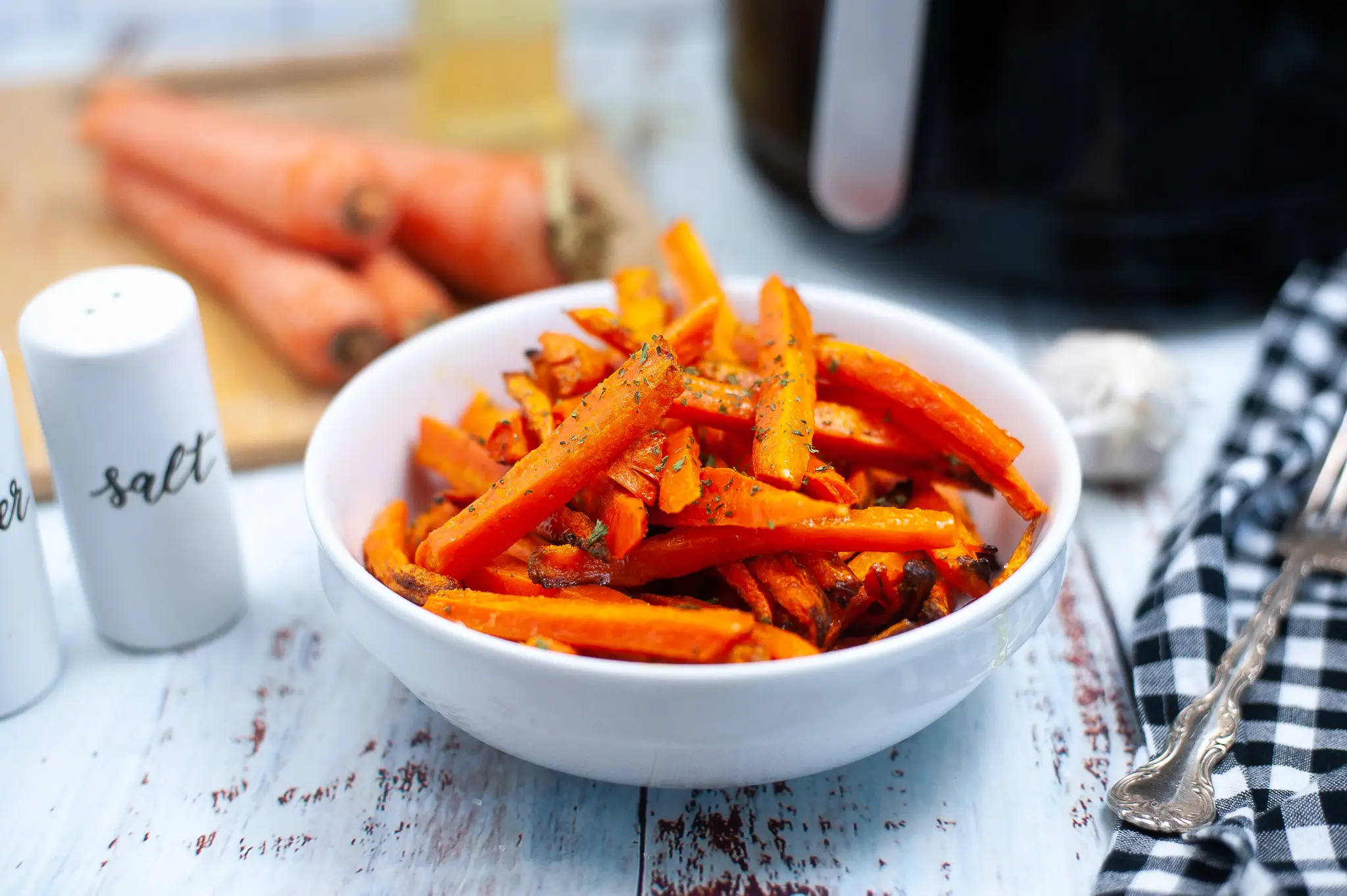 More Incredible Vegetable Side Dishes To Try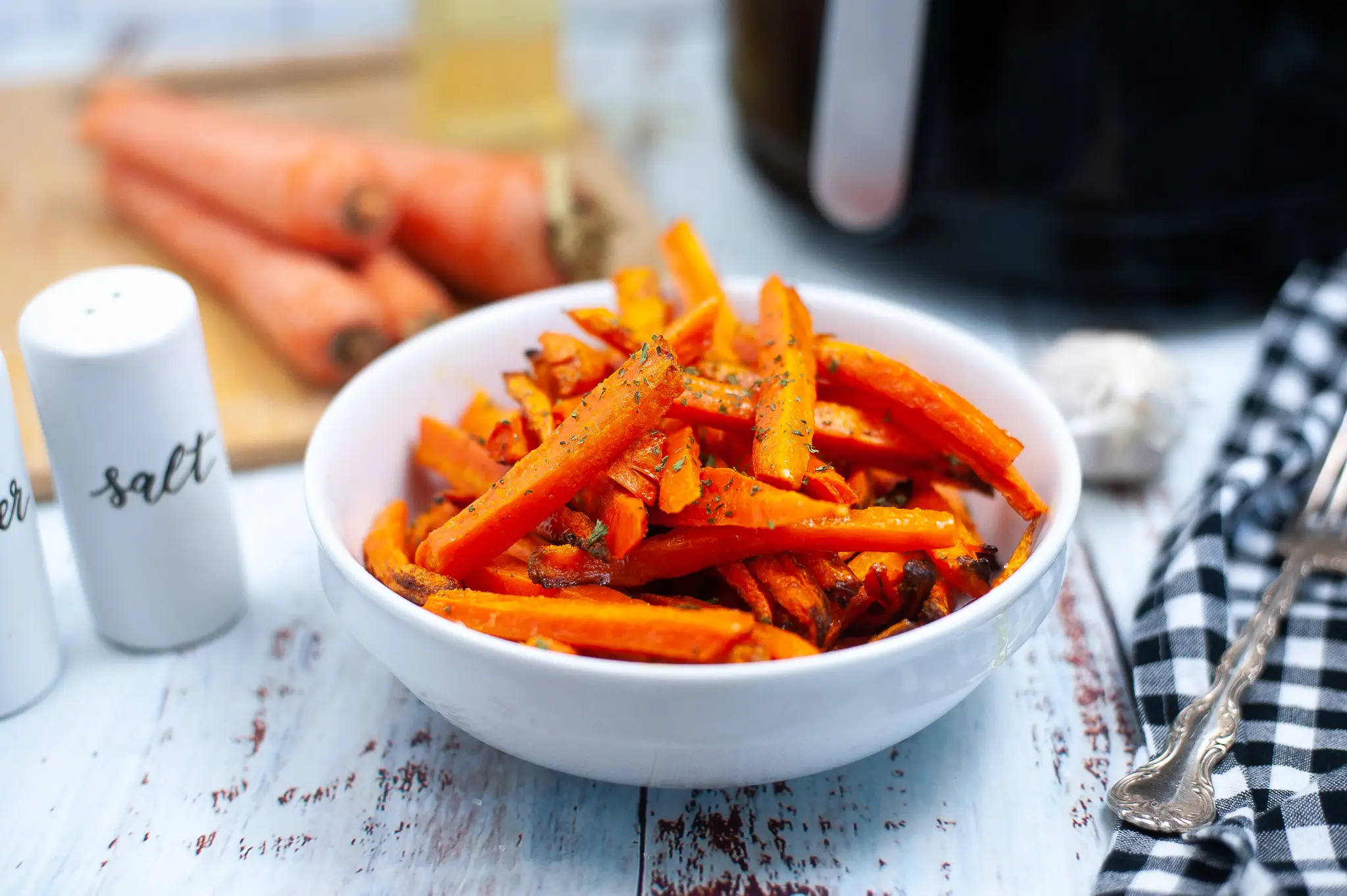 Air Fryer Carrot Fries
Air Fryer Carrot Fries are incredibly tasty. Quick, easy, healthy, delicious, and pairs well with almost any meal.
Ingredients
4 large carrots
1 tbsp Olive oil
1 tbsp of garlic powder
1 tsp of salt
Instructions
Peel the skin off your carrots. Cut your carrots in half, then in threes.
Place carrots in a medium-sized bowl. Toss in your olive oil and seasoning.
Place then the air fryer. Be sure to not overcrowd the carrots in the air fryer, ensuring room for airflow.
Cook at 370° for 10 minutes.