These Easy Irish Nachos are a terrific and tasty twist on traditional nachos. Perfect for St. Patrick's Day, enjoying the big game or as a crowd-pleasing appetizer at your next gathering.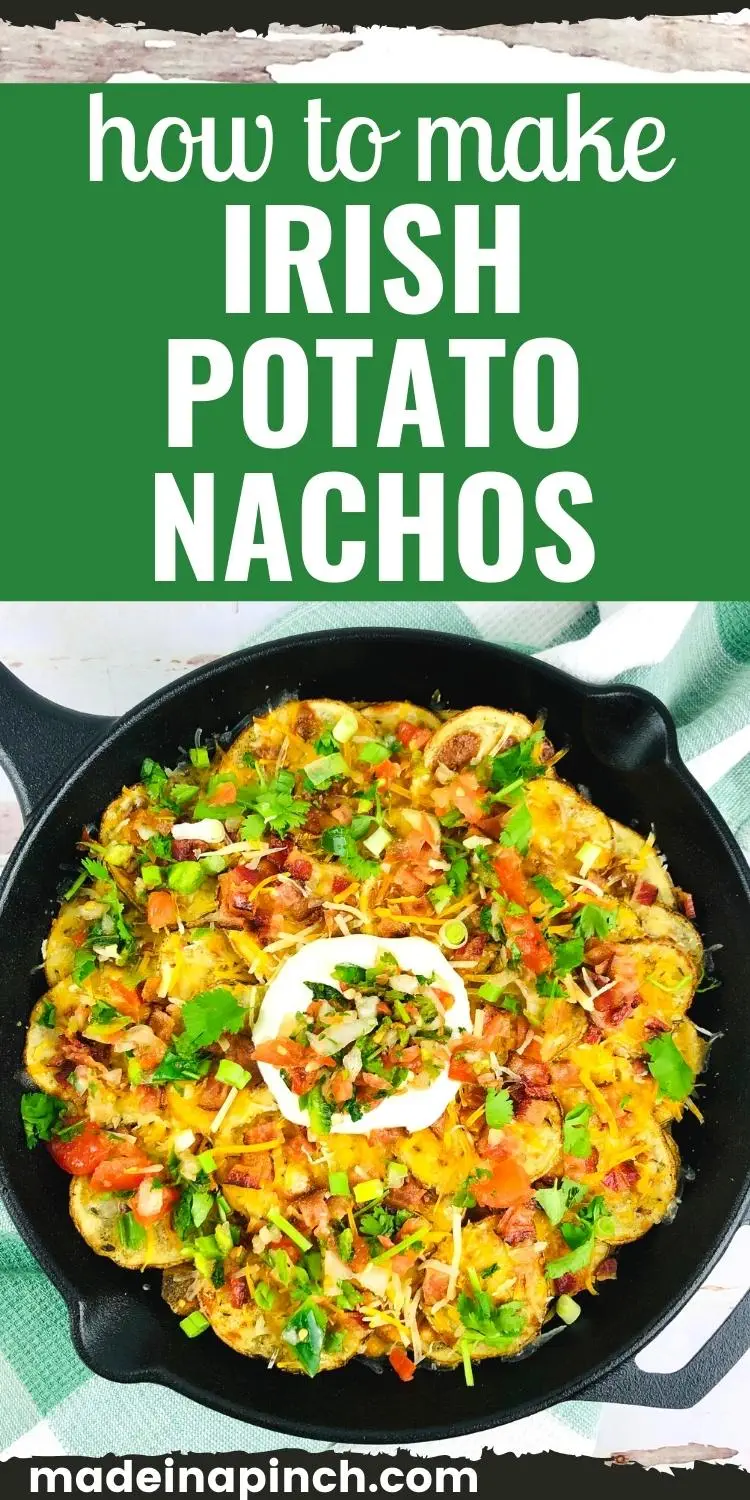 Be honest! Have you ever heard of Irish Nachos before? A friend of mine mentioned them, but I didn't know what they were. So, I did a little investigating to find out what these scrumptious nacho imposters were all about.
With the word Irish in the name, you might think they originated in Ireland but you would be mistaken. 🙂 They are widely unheard of in and around Ireland.
This unique and tasty nacho dish was actually invented in an Irish Pub in Texas around 1979.
Basically, they're nachos that use potato rounds in place of the tortilla chips.
Doesn't that sound AMAZING?
You can get just as creative with the potato nachos as you do with traditional nachos. Each member of your family can create their own unique version as well.
Baked potato rounds topped with crispy bacon, ooey-gooey melty cheese, sour cream, green onions, and whatever toppings you can think of to make your nachos even yummier.
If you want more party food recipes, try my Charcuterie In A Jar: A Savory Jarcuterie, Apple Nachos, or Juicy Instant Pot Buffalo Chicken Meatballs.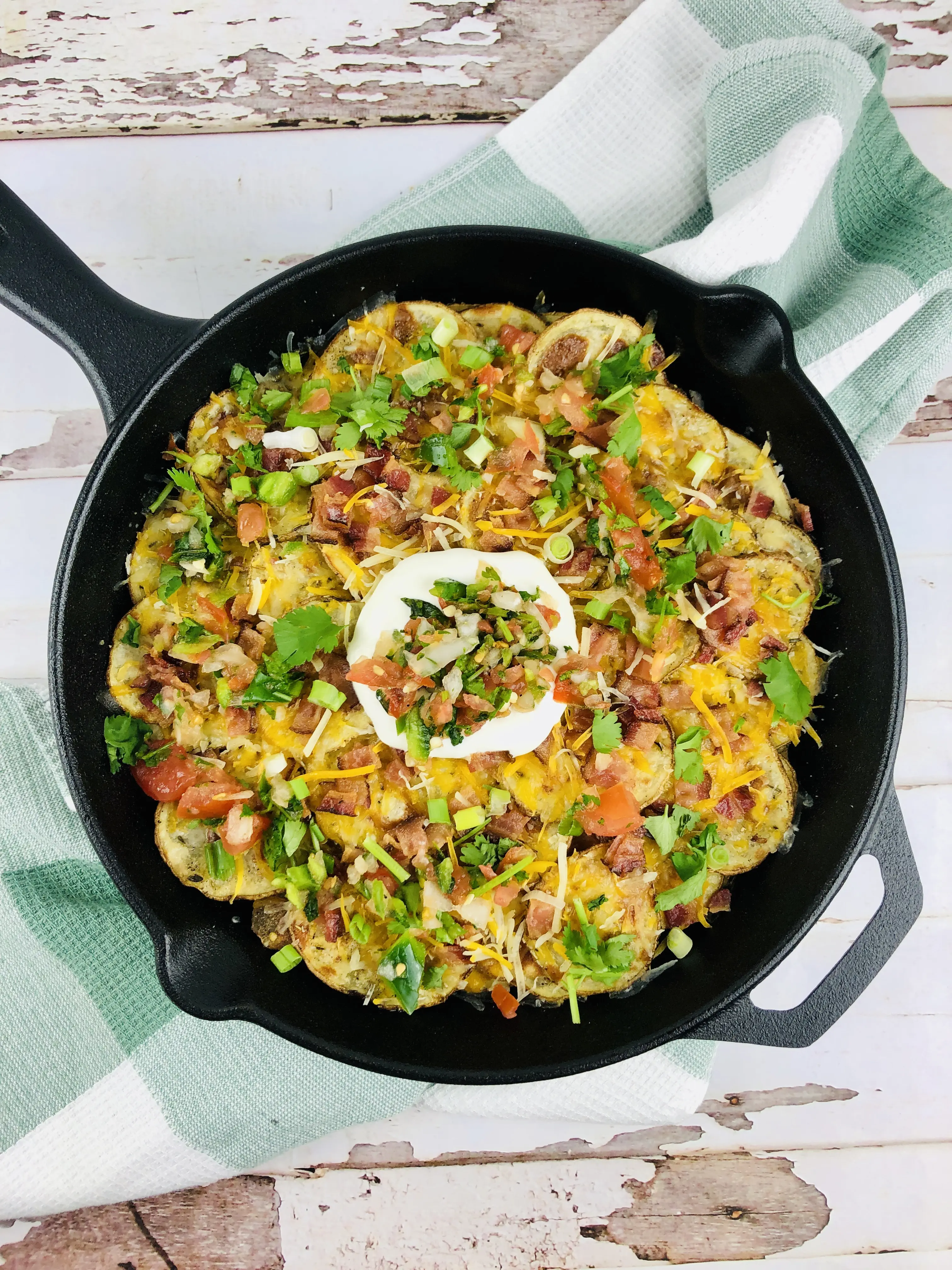 Ingredients Needed For Easy Irish Nachos Recipe
Russet Potatoes – I prefer to leave the skin on but you can peel them if you choose
Olive Oil – virgin or extra virgin oil
Rosemary
Thyme
Salt & Pepper – to taste
Shredded Cheddar Cheese – sharp, mild, mexi-blend, provolone or mozzarella are great choices
Bacon – crispy and crumbled
Sour Cream
Pico de Gallo
Green Onions – chopped
Cilantro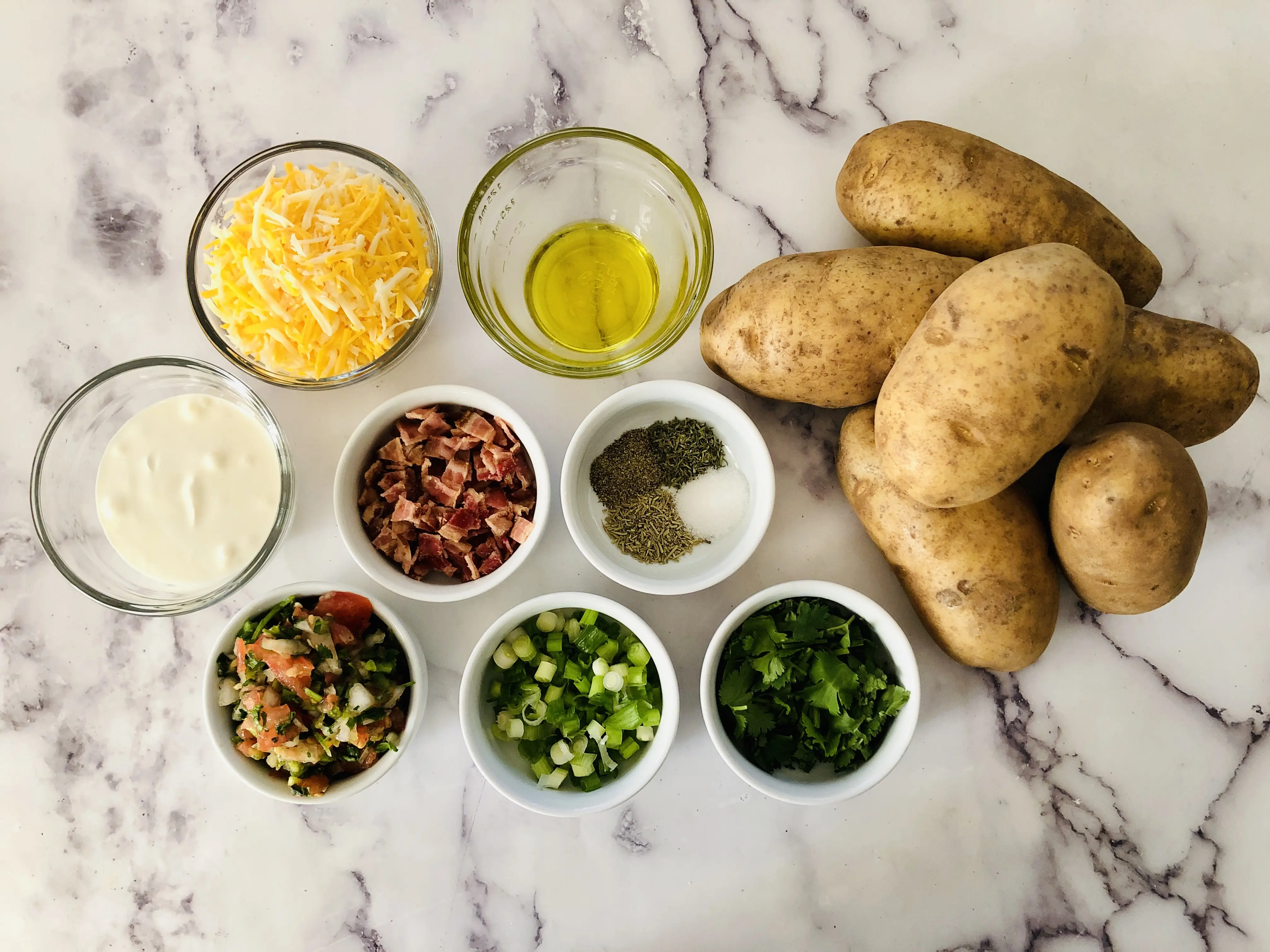 How to Make Easy Irish Nachos
Step 1
Begin by preparing a baking sheet with non-stick cooking spray and preheat the oven to 450 degrees.
Step 2
Combine the olive oil, rosemary, thyme, and salt and pepper in a large bowl. Toss the potatoes in and coat.
Step 3
In a single layer, place the potatoes on the prepared baking sheet and bake for 20 minutes. Turn and bake for another 20 minutes.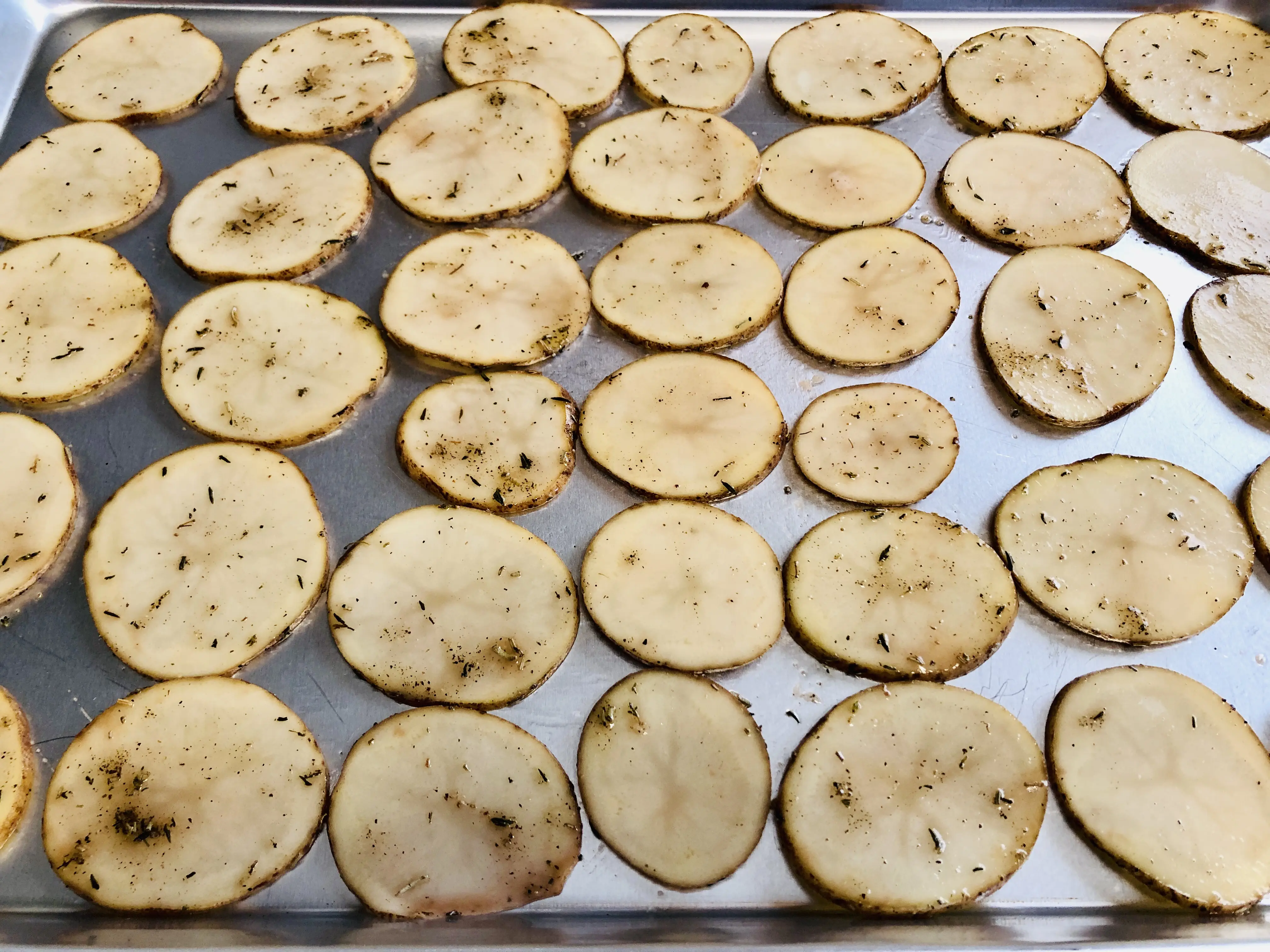 Step 4
In a round cast iron skillet, place the cooked potatoes in an overlapping pattern.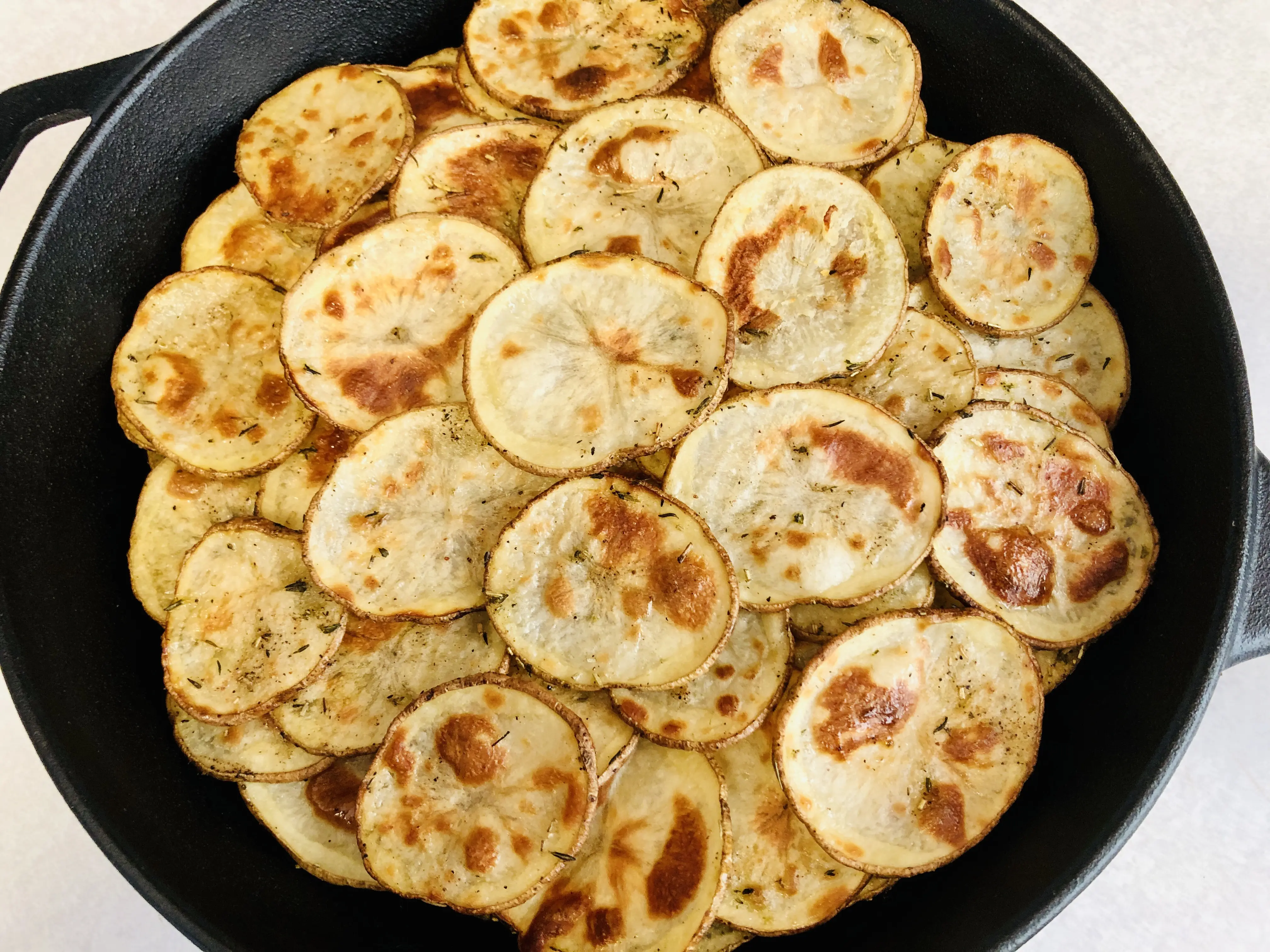 Step 5
Sprinkle the cooked bacon and shredded cheese on top and cook for 3 – 4 minutes or until cheese is melted.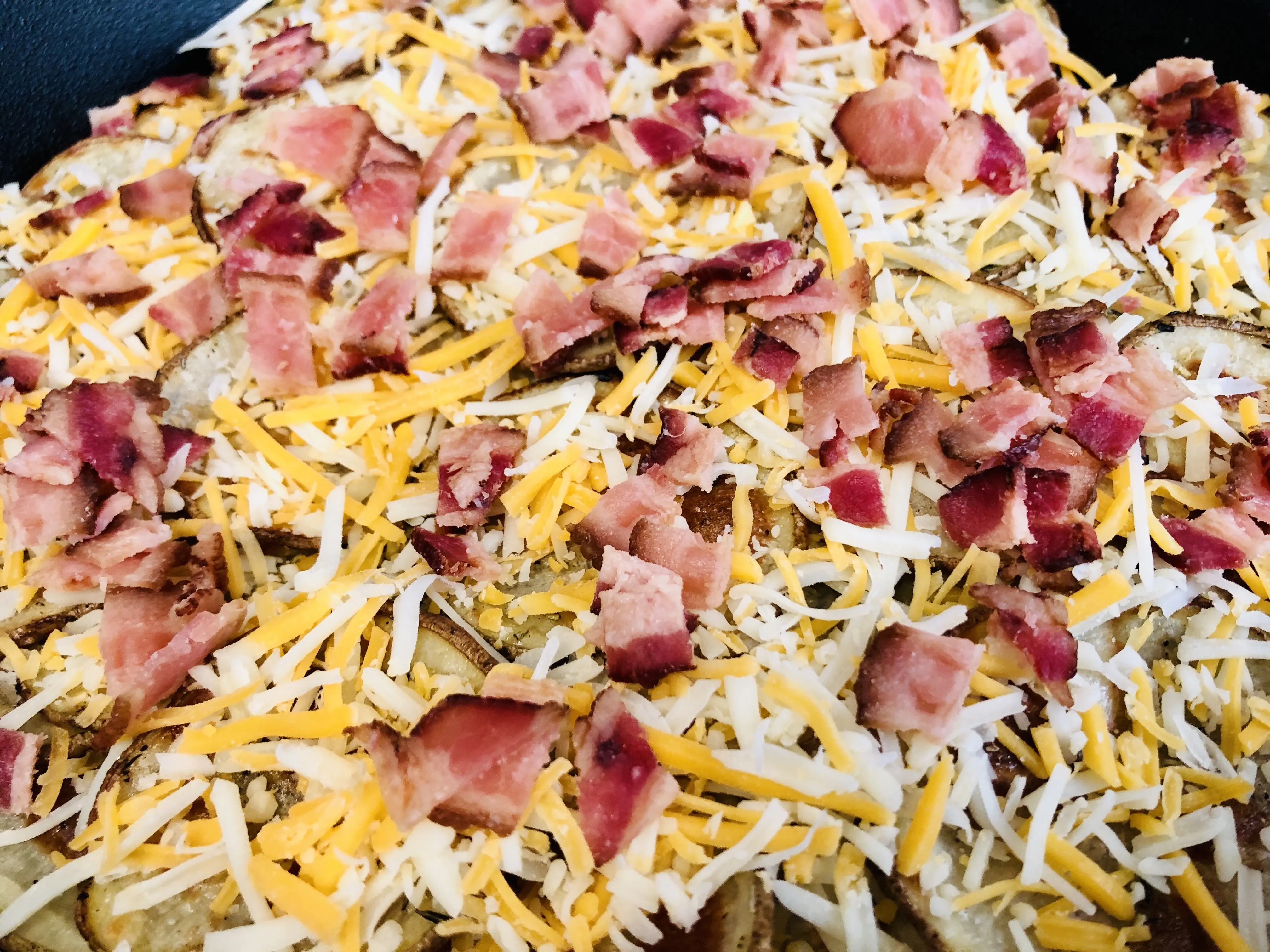 Step 6
Garnish the top with pico de gallo, sour cream, green onions and cilantro.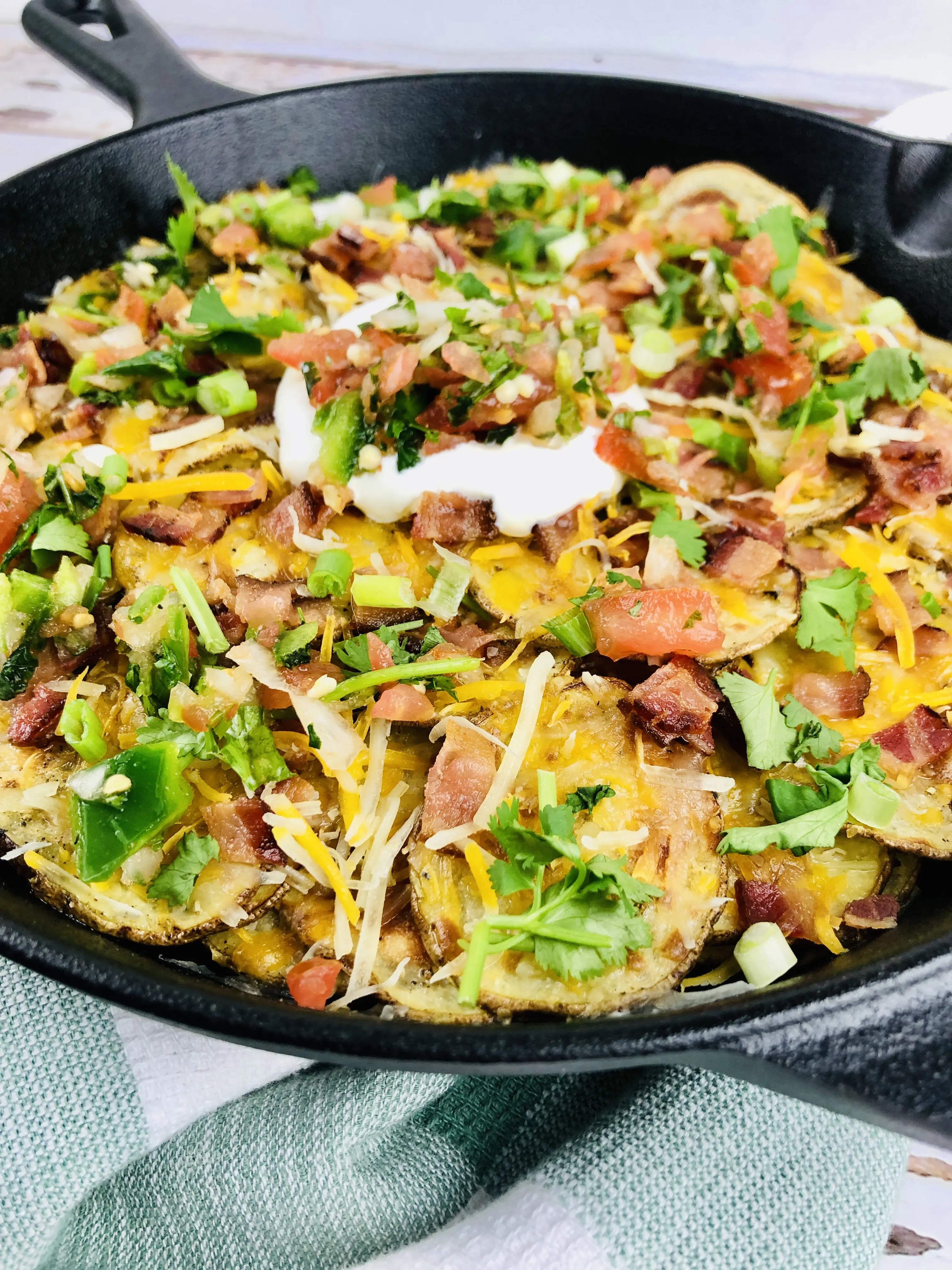 Irish Nachos Recipe Notes And Tips
Any oven-safe baking dish will work if you do not have a cast iron skillet.
Use russet potatoes if you can. Their natural low moisture levels and thick skin make them my top choice for frying and baking.
If you want crispier potatoes, try soaking them in cold water for 30 minutes then pat them dry. This removes the starch and leads to a super crispy chip.
Need to speed up the process? You could replace the potatoes with frozen fries/tater tots or potato chips.
If you are using fries or tator tots that have been pre-seasoned, you do not need to add salt. If you use potato slices or fries that are unseasoned, you will need to season to your taste.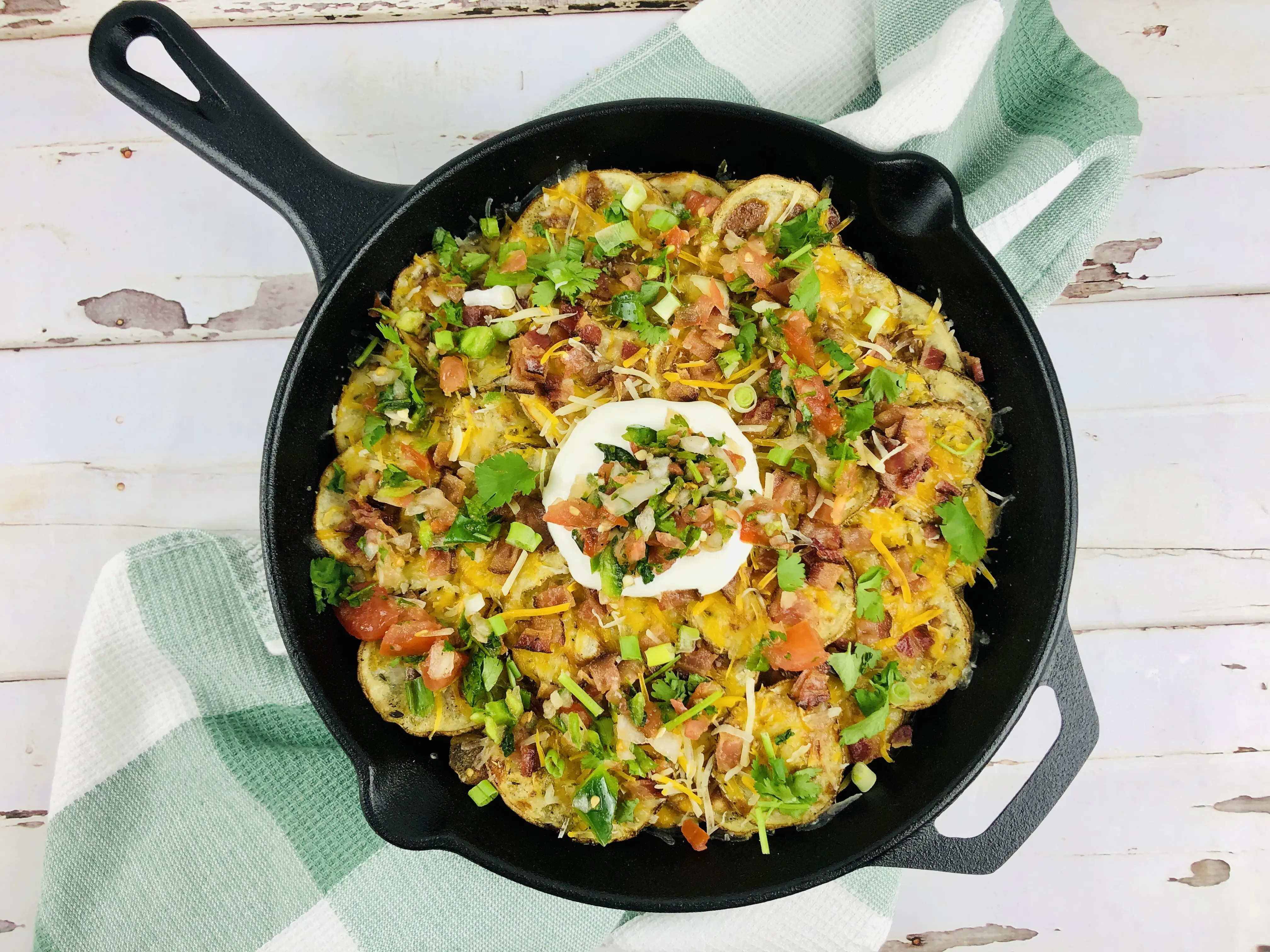 Variations Of Easy Irish Nachos To Try
Choose your favorite nacho toppings such as jalapenos, onions, queso, salsa or fresh cilantro.
Change up the base so instead of sliced potatoes you could use waffle fries, potato wedges or tator tots.
Ranch dressing is delicious with pretty much anything so you now it will be delicious added to the top these nachos. ;). BBQ sauce would be another delicious choice.
Why not add a little protein and make it a meal. Top with pulled chicken, pork, brisket, corned beef or taco meat. YUM!
FAQs
What are Irish Nachos?
Irish Nachos are built and assembled in much the same way as regular nachos but using potato slices instead of tortilla chips as the base. Then top them with your favorite toppings such as sour cream, cheese, guacamole or any of your family's favorite toppings.
What is the best way to store and reheat my leftovers?
Remove any remaining sour cream and place the leftovers in an air-tight container in the refrigerator. Leftovers will keep in the fridge for up to 2 – 3 days.
To reheat, place the leftovers in a 350-degree oven until the cheese melts, 15 to 20 minutes, or in the microwave for 2 or 3 minutes. Then serve with fresh sour cream and additional toppings if desired.
Can I freeze Irish Nachos?
I probably would not recommend freezing this dish. Some of the toppings you put on will not freeze well and your potatoes would not retain the crispness or crunch after they thaw.
Can I use an air fryer to bake the potato wedges?
Honestly, I have not tried using an air fryer but I don't see any reason why it wouldn't turn out great. If you give it whirl, I would love to hear from you on how it turned out.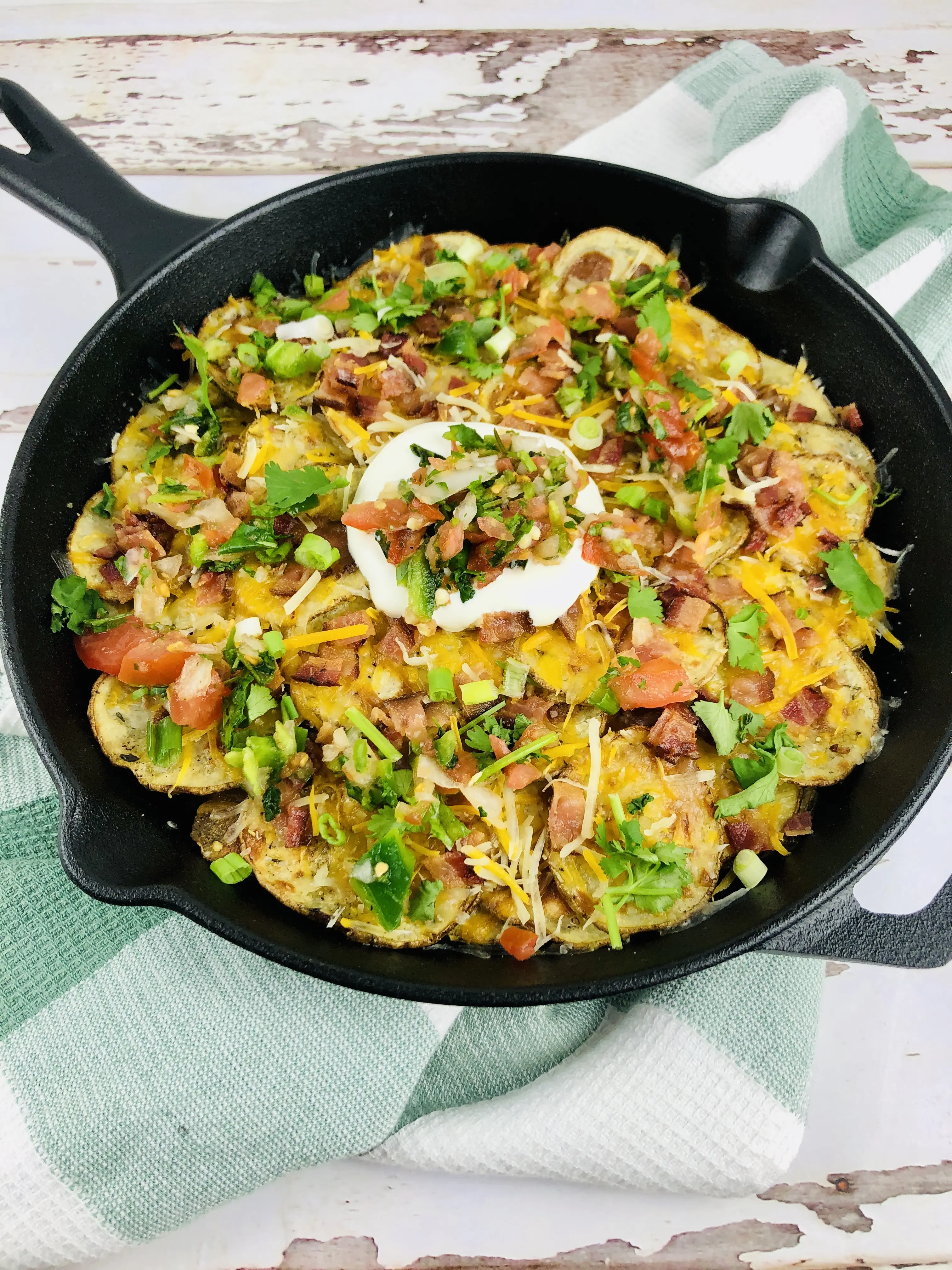 More Fun Party Food To Try
If you love this Easy Irish Nachos recipe, check out these recipes that will be party favorites too!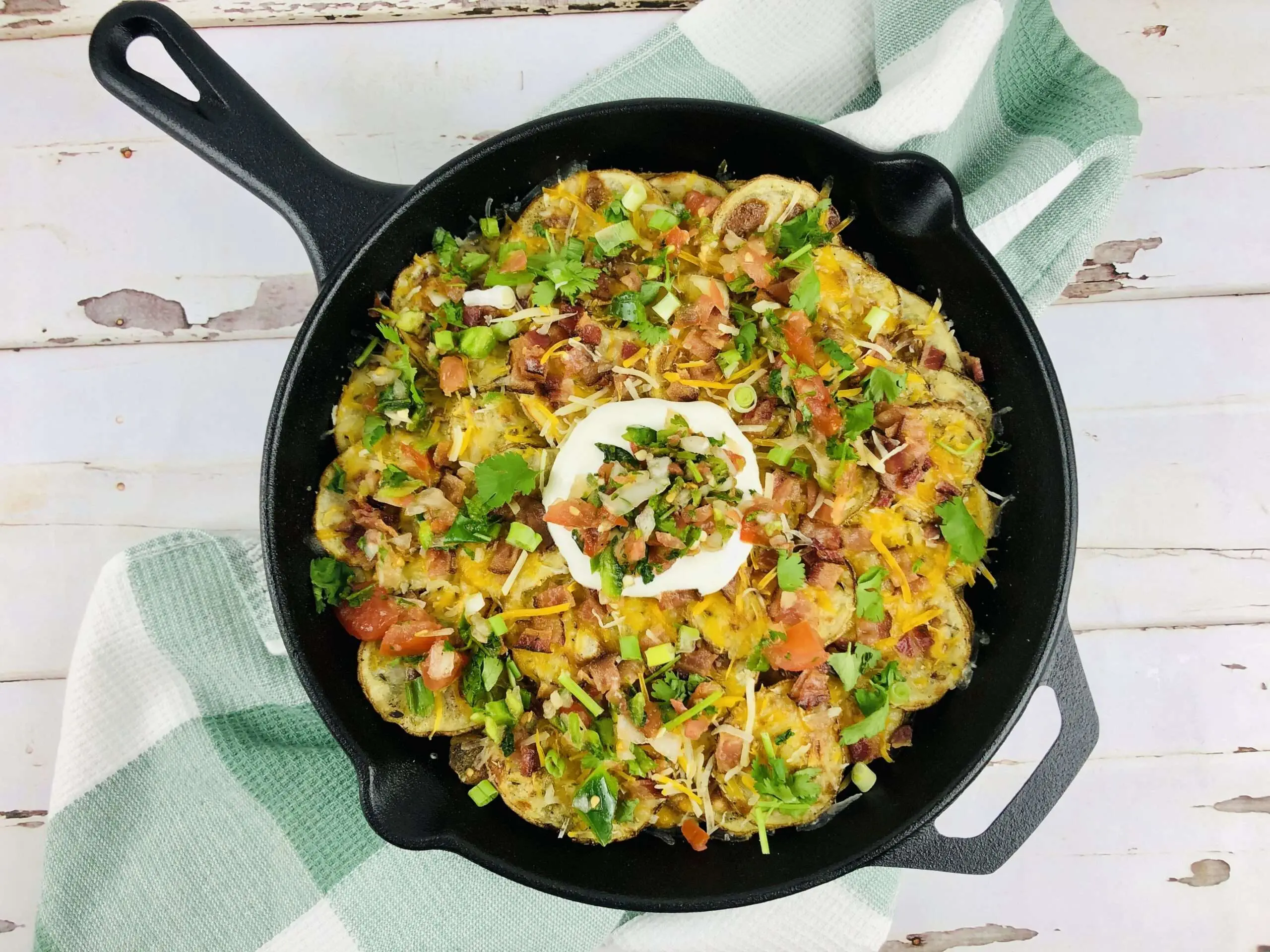 Easy Irish Nachos
These Easy Irish Nachos are a terrific and tasty twist on traditional nachos. Perfect for St. Patrick's Day, enjoying the big game or as a crowd-pleasing appetizer at your next gathering.
Ingredients
1 ½ lbs russet potatoes, skin on, sliced ¼ inch thick
2 tbsp olive oil
½ tsp rosemary
½ tsp thyme
Salt & pepper
1 cup shredded cheddar cheese
5 slices of bacon, cooked & chopped
¼ cup sour cream
¼ cup pico de gallo
2 green onions, chopped
1 tbsp cilantro, chopped
Instructions
Preheat oven to 450 degrees and spray baking sheet with nonstick spray.
Toss sliced potatoes in olive oil, rosemary, thyme, salt & pepper to coat.
Place potatoes single layer on sheet and bake for 20 minutes then flip and bake an additional 20 minutes.
Place cooked potatoes in a cast iron skillet in a round, overlapping pattern.
Sprinkle on bacon & cheese and cook for 3-4 minutes until cheese is melted.
Garnish with sour cream, pico de gallo, green onion, and cilantro.