The Best Homemade Strawberry Cobbler is by far the ultimate summertime dessert. With the taste of summer in every delicious bite, it's simple and easy to whip up in just minutes. This dessert will be requested again and again and again!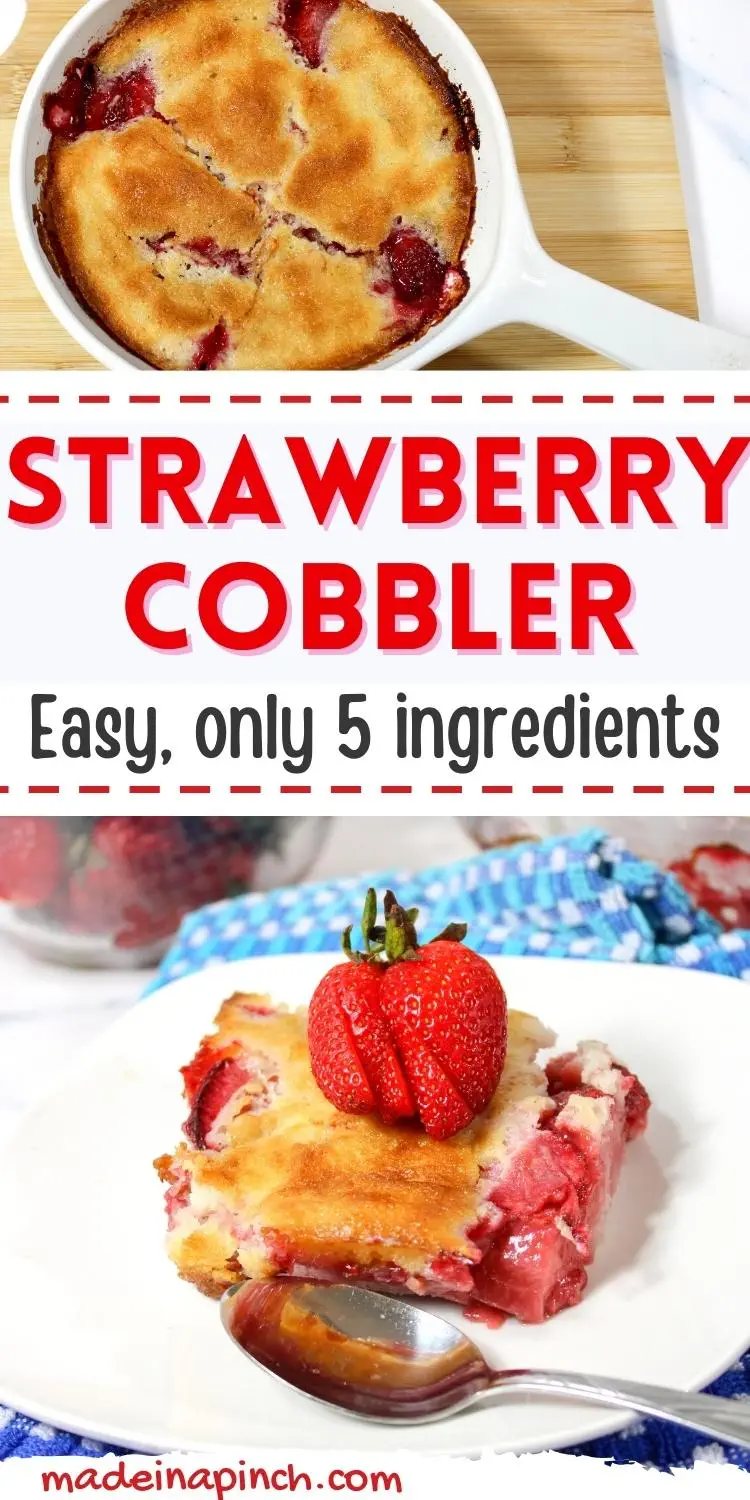 Ok, who loves strawberry recipes? 🙋‍♀️
I can't get enough of them!
You can find me making Strawberry Stuffed French Toast or Strawberry Banana Smoothie Bowl for breakfast.
And I'll follow those up with Fresh Strawberry Bread or Strawberry Spinach Salad during the day.
Then the real fun begins! Care for some Cheesecake Strawberry Poke Cake or Old-Fashioned Strawberry Pretzel Salad ? They're perfect for any time of the year!
Some of my best memories were helping my mom pick the strawberries in her strawberry patch. That patch was her pride and joy.
And boy howdy, did we reap the benefits. She was the BEST cook ever (everyone says that about their mother), but mine really was. 😁
Anything she baked with those fresh, out-of-the-garden strawberries was always incredible.
If you have a strawberry patch, you know exactly what I am talking about. So what do you do with the huge yield of fresh berries in your garden? That's right……make the BEST Homemade Strawberry Cobbler!
You will love how incredibly simple and easy this recipe is and how quickly you can whip up a batch with all those fresh berries. It's different from my Strawberry Crumble Dessert but just as delicious!
It is a perfect dish to take to a potluck or family gathering. Definitely the ideal dessert for any summer evening!
If you love desserts made with fresh strawberries, I have even more! Try my Easy Chocolate Covered Strawberry Brownies or Berrylicious Red, White, and Blue Trifle.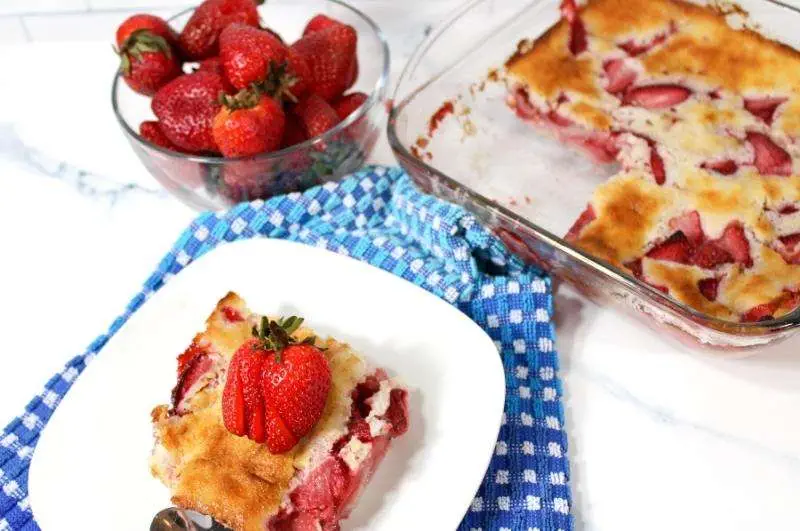 Ingredients Needed For Homemade Strawberry Cobbler Recipe
You just need a handful of ingredients you probably already have (except for maybe the strawberries):
Fresh Strawberries – hulled and sliced
Self Rising Flour – self-rising flour contains a rising agent that other flours do not have
Sugar – granulated
Milk – Whole or 2%
Butter – salted or unsalted, your preference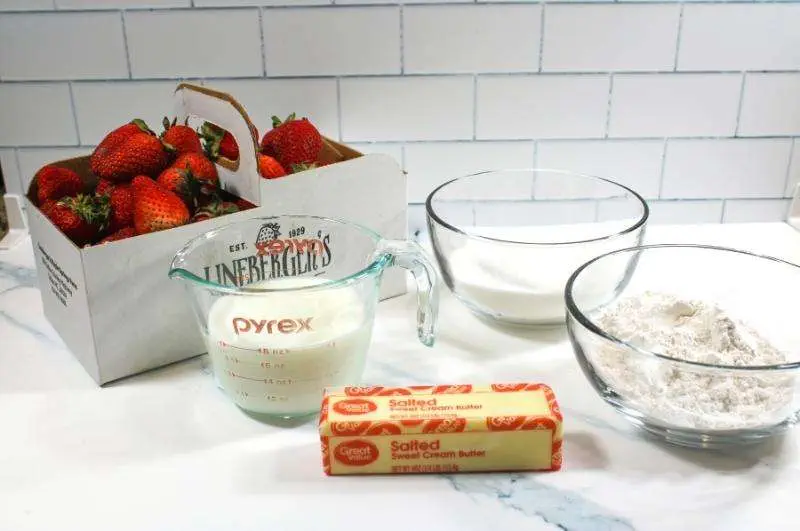 How To Make Homemade Strawberry Cobbler
Step 1
Preheat the oven to 425 degrees.
Step 2
Thoroughly wash the strawberries, remove the tops off the strawberries, and slice them.
Step 3
Using a 9 x 9 baking dish, place a stick of butter in it and melt in the microwave.
Step 4
In a medium bowl, mix flour, sugar, and milk. Now pour the mixture into the baking dish over the melted butter.
Step 5
Place the sliced strawberries on top of the batter.
Step 6
Bake for about 25 minutes or until golden brown.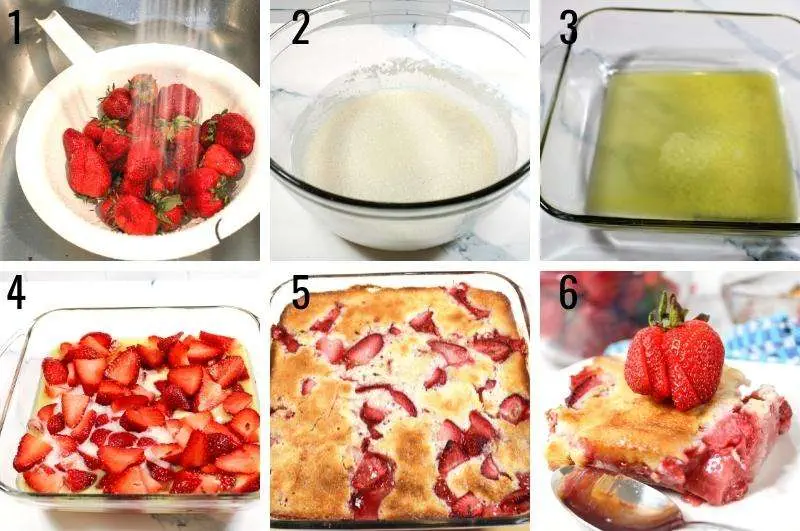 Strawberry Cobbler Recipe Notes And Tips
Toss a little extra sugar on top of the strawberries before adding them to the top of the dry ingredients to help bring out a little extra sweetness in the berries.
If you do not have self-rising flour, you can make your own if you have all-purpose flour, baking powder, and salt. I do this myself, regularly! Create your own self-rising flour by adding 1 teaspoon baking powder and 1/4 teaspoon salt to each cup of all-purpose flour.
When shopping for fresh strawberries, look for light-colored seeds on the berries. If the seeds are dark brown and dried up, the strawberries will not be as fresh as you may like.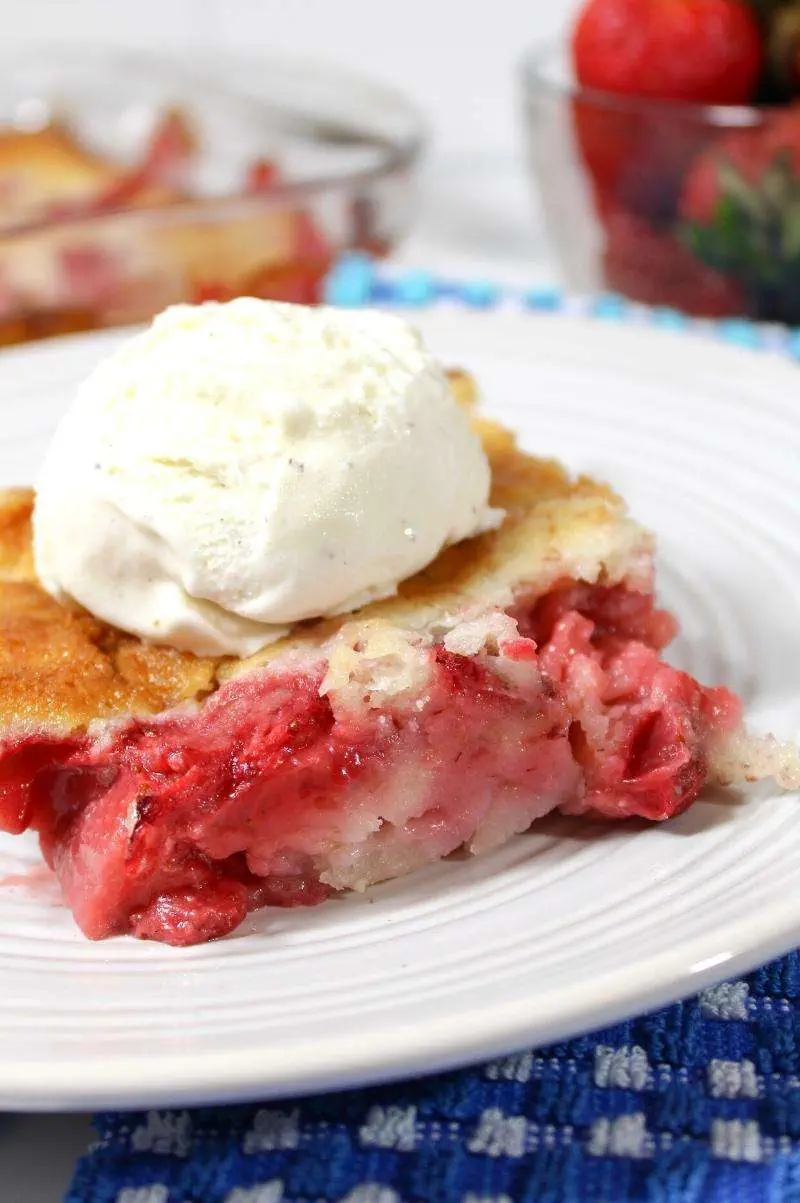 Variations Of Strawberry Cobbler To Try
Try this simple recipe with your favorite fruit such as peaches, raspberries, mixed berries, apples, rhubarb, cherry, or pears.
Bake this cobbler in a 9-inch cast-iron skillet especially if you love baking in cast iron or do not have a 9×9 baking dish. You could also bake it in a bowl.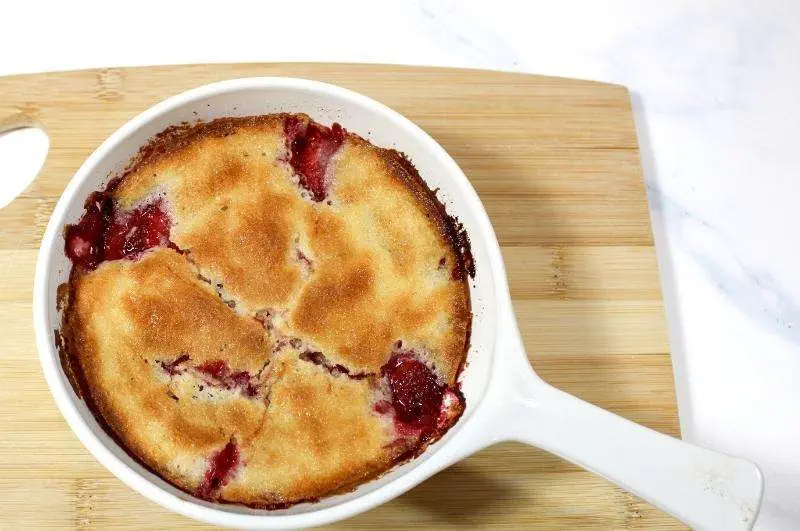 Who doesn't love ice cream with their fresh-out-of-the-oven cobbler? Vanilla and strawberry would be scrumptious but your favorite flavor is always the best choice.
A dollop of whipped cream would be a yummy twist as a topping for your warm cobbler.
FAQs
Can I use frozen strawberries for this recipe?
I have not tried using frozen strawberries but you can certainly try and see how it works. I think the frozen strawberries will contain too much water and will be too watery, even after your cobbler bakes.
How long will the cobbler keep in the refrigerator?
This strawberry cobbler will keep well in the fridge for up to 3 days if kept in an air-tight or covered container.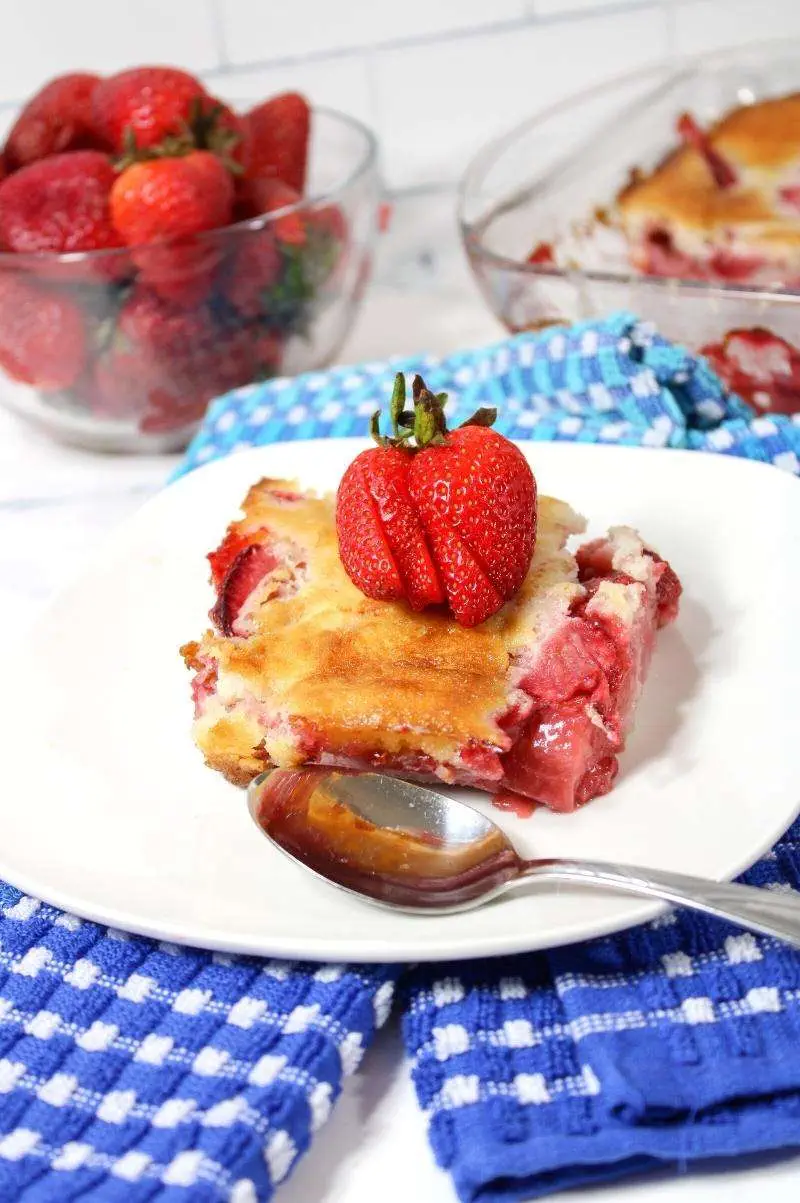 Can I freeze this Strawberry Cobbler?
Absolutely, you can! I would recommend that you wrap it well, first in plastic and then a couple of layers of foil. This will help keep extra moisture out during the time you have it frozen.
The cobbler will freeze and keep nicely for up to 5 – 6 months.
Can I make this cobbler ahead of time and keep it in the fridge until I am ready to bake?
Honestly, I would not. I would bake it right after assembly. The cobbler will keep nicely in the fridge until you are ready to serve.
What is the best way to reheat the Strawberry Cobbler?
Place the baking dish in a pre-heated oven on the middle rack for about 30 – 40 minutes.
If you are reheating a single portion, reheat in the oven for approximately 10 – 15 minutes.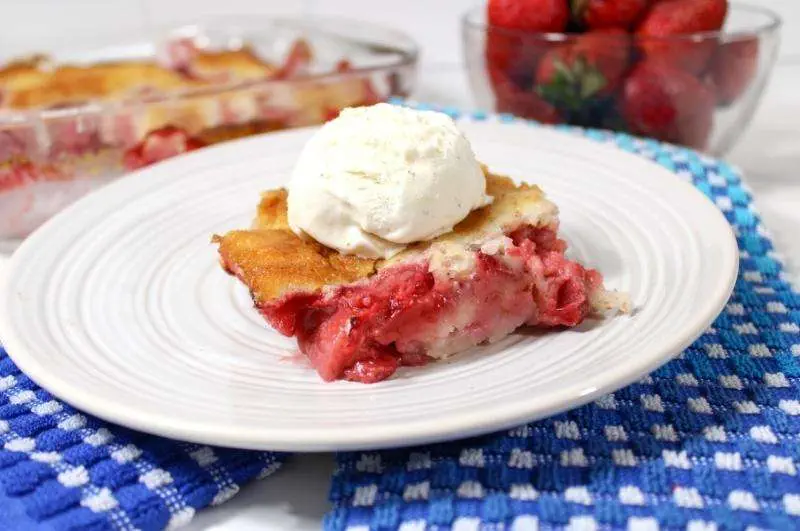 More Delicious Desserts Made With Fresh Fruits To Try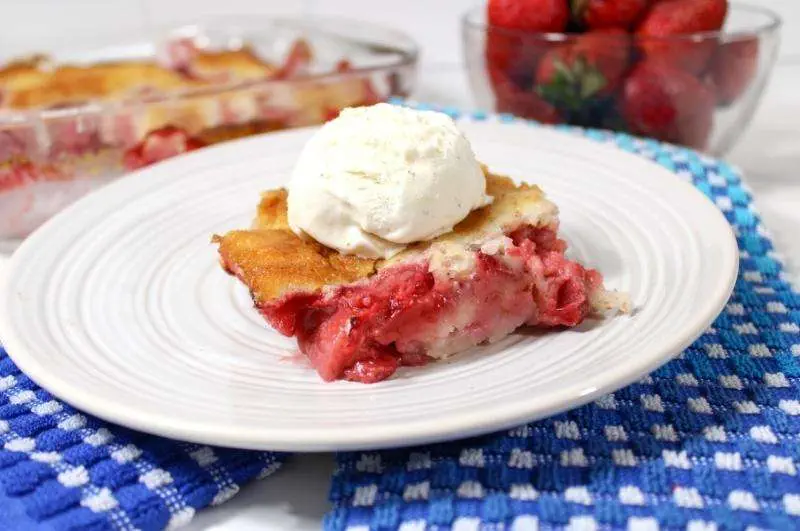 The Best Homemade Strawberry Cobbler
Ingredients
1 lb fresh strawberries
1 cup self rising flour
1 cup sugar
1 cup milk
1 stick butter
Instructions
Wash and cut tops off strawberries and slice.
Melt a stick of butter in a 9x9 baking dish.
Mix flour, sugar and milk and pour into a baking dish over butter.
Lay sliced strawberries on top of batter.
Bake at 425F for 25 minutes until golden brown.